What Time Should I Arrive at Pearl Harbor?
There are a number reasons why you may not want to embark on an official Pearl Harbor tour. Maybe you don't want to be tied to a schedule, or you want the freedom to go somewhere besides back to your hotel after your time at Pearl Harbor. You might just want to customize your itinerary at Pearl Harbor, and not be tied to a set order of places to visit. Whatever the reason, you're thinking about purchasing the Passport to Pearl Harbor.
With the Pearl Harbor tickets included in the Passport, you have access to all of the attractions without being tied to a set schedule. That also means it's up to you to decide when you arrive at Pearl Harbor. Which leaves the question: what time should I arrive at Pearl Harbor to start your self-guided tour?
How Early Should I Arrive at Pearl Harbor?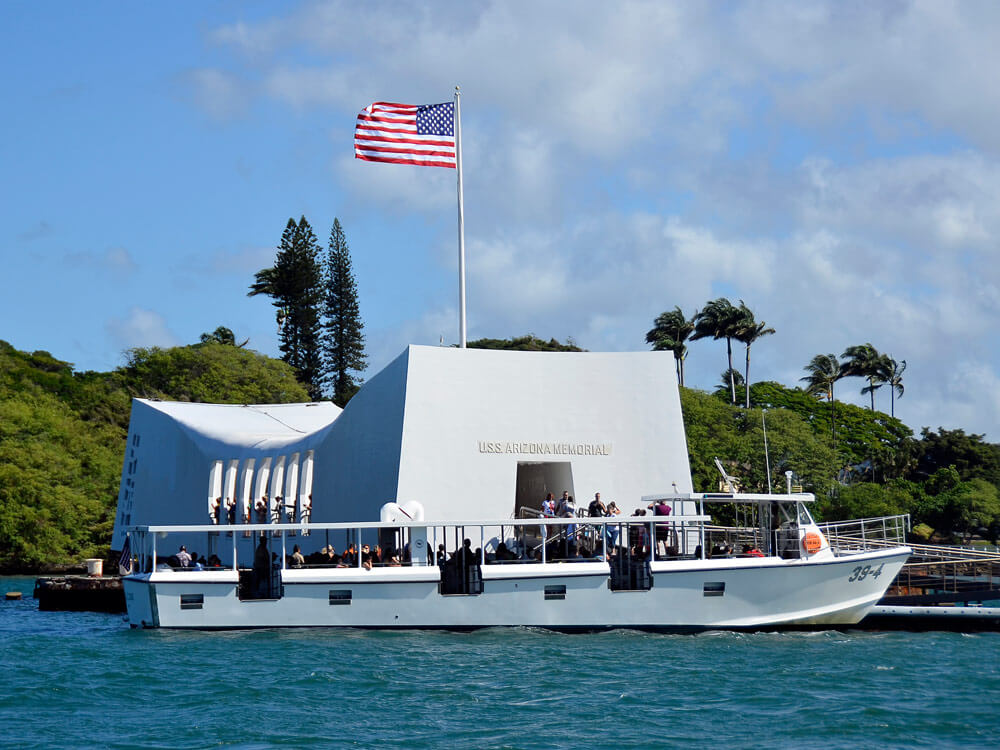 Simply put, you can arrive at Pearl Harbor whenever you want, keeping in mind that it closes at 5:00 PM daily. There is, however, a certain amount of time you should allot for your visit. You want to be able to get the most out of your Passport to Pearl Harbor tickets and to do that, we recommend that you plan to arrive fairly early in the morning, as close to the 7:00 AM opening time as possible.
There are no restrictions on what you'll be able to see and do if you decide to show up later, with one big exception: the timed program for the USS Arizona Memorial. Every other site, memorial, and exhibit of Pearl Harbor runs unrestricted from open to close. The USS Arizona Memorial program, however, is a bit different. Because several elements of this program—the Pearl Harbor Memorial Theater and the US Navy shuttle boats, as well as the Memorial itself when it's accessible—have limited capacity, there is a limited number of time-stamped tickets given out each day. With the Passport to Pearl Harbor, you aren't guaranteed a ticket to the program, which includes a 23-minute documentary and shuttle boat ride to the memorial dedicated to the 1,177 men lost when the USS Arizona was attacked and sank during the attack on Pearl Harbor on December 7, 1941.
In order to better your chances of getting to experience the USS Arizona Memorial program, we highly recommend arriving early and securing your tickets—which aren't included in the Passport to Pearl Harbor—the moment you get there. With only 1,300 walk-up tickets given out each day, they often go quickly.
Another advantage of arriving early at Pearl Harbor is that you don't have to rush through the sites. There is a lot to see, and you may be surprised when you realize how long you can spend in any one exhibit or memorial. Since you're on a self-guided tour, there's no clock telling you when it's time to move on to the next attraction.
Sites like the Pearl Harbor Aviation Museum and Battleship Missouri can really eat up a good part of your day if you let yourself become immersed in them. There are also spots like the Remembrance Circle, where you can simply sit and ponder as you stare out onto the harbor.
There are many reasons to show up to Pearl Harbor early, but all you really need to know is that it provides you with ample time to explore everything there is to see there.
I Don't Want to Worry About Keeping Track of Time
Of course, you can throw out your worries about what time you should arrive at Pearl Harbor and opt instead for a Pearl Harbor tour. Unlike the Passport to Pearl Harbor, a tour does come with guaranteed tickets to the USS Arizona Memorial program, along with visits to some or all of the other memorials and museums at Pearl Harbor, depending on the tour you choose.
With a tour, you just show up at your designated pickup location at a specific time. From there, everything is taken care of for you.