A Visit to the National Memorial Cemetery of the Pacific
When planning your tropical escape to Hawaii, chances are you never considered that you might somehow wind up contemplating history over the grave of an American service member you never knew. Still, when you actually get to Oahu and hear about places like the World War II Valor in the Pacific National Monument, Pearl Harbor Historic Sites, and the National Memorial Cemetery of the Pacific, it's difficult to not take a day out of your vacation schedule to experience these incredibly important places.
The National Memorial Cemetery of the Pacific is often the last place visited on tours of Pearl Harbor, but It's not just a dedication to the lives lost on December 7th, 1941. Throughout the years, men and women of the armed forces have chosen the beautiful cemetery within the Punchbowl Crater as their final resting place. Though it is first and foremost the final resting place for the deceased, the Punchbowl Cemetery draws millions of visitors each year, each one wanting to do the same thing – pay their respects to the thousands of brave heroes who proudly served while protecting the nation.
The Most-Visited Cemetery of the Pacific
The cemetery in Punchbowl Crater is an intricately designed place where every detail is calculated to have a meaning and to stand for something. The moment you drive through the main entrance, you're greeted by a towering American flag. Behind that lies a large staircase and a series of walls that make up the Honolulu Memorial.
Created in 1964 by the American Battle Monuments Commission, the Honolulu Memorial was constructed to honor the efforts of American Armed Forces in the Pacific during World War II and the Korean War. The walls of the memorial, which were expanded in 1980 to account for the Vietnam War, are etched with the names of soldiers, sailors, and Marines who never returned from battle. Over 28,000 names are listed. At the very top of the staircase, a statue of Lady Columbia gazes down on the walls of names, representing the grieving mothers who lost their children during times of war.
Beyond this impressive monument to the fallen forces of the American military is another memorial, which houses a small chapel. The structure is a dedication that focuses specifically on the many battles that were fought in the Pacific since World War II.
A Serene Final Resting Place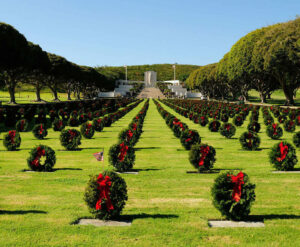 Making up the bulk of the cemetery, of course, are the countless graves, which are all marked with flat granite headstones. Military personnel from all US conflicts are buried within the grounds of the cemetery, though it's also the site of graves of notable men and women throughout American and Hawaiian history.
Graves you may happen across during a visit to the cemetery include that of Senator Daniel Inouye, President Barack Obama's grandfather Stanley Armour Dunham, Hawaii governor John A. Burns, and Honolulu tattoo artist Norman "Sailor Jerry" Collins.