USS Vestal Extraordinary Service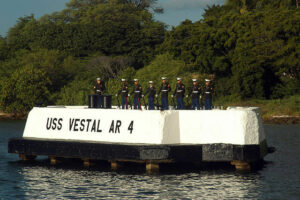 As you approach the Arizona Memorial you will see a white mooring that reads USS Vestal. Most people who visit the Arizona Memorial on a Pearl Harbor tour look, but have no idea about the history of the USS Vestal.
Vestal was the victim of unfortunate circumstances.  She was a repair ship located outboard to the USS Arizona on December 7th, 1941.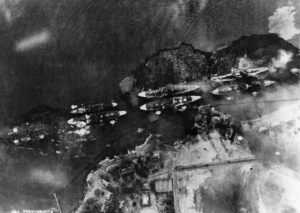 When the Arizona exploded the Vestal's skipper, Commander Cassin Young, and approximately 100 of his crewmen were thrown over the starboard side of the ship into the harbor.
At the time of attack, the Vestal was 33 years old. Ships of that age generally had poor watertight integrity.  During the attack, an 800lb armor piercing aerial bomb (like the one that destroyed the Arizona) passed entirely through the USS Vestal and exploded underneath her hull.
There were two hits on the Vessel that were intended for the Arizona. The Arizona was hit in the first wave of the attack and the smoke and flames were overwhelming all of the ships near her. Some of the Vestal's crew were preparing to abandon ship when they saw Commander Young coming back on board. They were shocked when he told them to get back to their stations and refusing to let them abandon ship.
Young''s actions were courageous and life saving.  To avoid the smoke and fire, the Vestal cut her mooring lines and was separated from the Arizona before the second wave of the attack hit.
The damage to Vestal by the aerial bombs caused severe flooding. Commander Young made the decision to beach her as a result. He knew that she was sinking and if she did not move to the beach she would be entirely underwater.  The commanding officer of Nevada made a similar decision.
The movement of Vestal between the attacks caused the Japanese pilots to believe that they had sunk her. Some mistakenly identified Vestal as an oiler rather than a repair ship.
Despite the damage from the aerial bombs, Vestal survived the attack, was repaired and put back in service. In fact, she survived all of WWII and saved many lives.