USS Arizona Photo to Prepare for Your Visit
In over 200 years of United States history, the attack on Pearl Harbor is one of the most important events. If you are preparing for a visit, you are in the right place. We have a history section that will help you to understand the events of December 7th, 1941. Without even reading, you can look at  USS Arizona Photos to get an understanding of the intensity experienced that day.
 Photo from Japanese plane

Can you spot the the Japanese planes?
The water shooting into the air at battleship row is from a torpedo hit on the USS West Virginia. On the opposite side of Ford Island is the USS Utah, already hit by torpedoes and listing. The USS Arizona has not been hit yet in this photo because this is early in the attack during the first torpedo runs. The USS Arizona was not hit by torpedos, but by armor piercing bombs.
 USS California Sinking
One can clearly see the California sinking, but if you look carefully you can see the Nevada on fire behind it and the USS Shaw on fire to the far left. This image show the chaos and devastation at Pearl Harbor on of December 7th.
USS Arizona Photo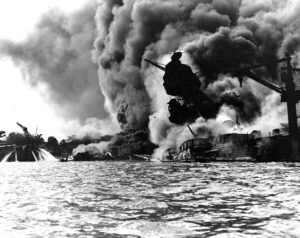 The intensity of the fire and smoke can be seen in this USS Arizona Photo. The men on the stern of nearby Tennessee were working tirelessly to keep the burning oil away from their ship.  1177 died on the Arizona when an armor piercing bomb blew up her forward magazine.