Tips for planning a Pearl Harbor Experience
If you are going to make the trip to Pearl Harbor, then you might as well do it right. What does that mean? It means that you get the most out of your Pearl Harbor Experience by being prepared. As an Authority on visiting Pearl Harbor, we have prepared these planning tips so you can avoid the common mistakes that visitors make.
Pearl Harbor Experience

Dos

:
Watch Pearl Harbor Movies before your trip. This is the easiest homework you can have.  But it is worthwhile. movies help you to get an understanding before you arrive at Pearl Harbor. When you hear the words Battleship Row, Ford Island, Yamamoto or Japanese Zero, you will know what it means. Being aware of these things helps you appreciate them more. Check out this post on Pearl Harbor Movies.
Look at a map of the Pacific. To really appreciate the planning that went into the attack on Pearl Harbor you should see the route that the Japanese strike force made to Hawaii. Travelling that distance undetected was a naval feat in itself.  Check out our Pearl Harbor Maps for a better understanding.
Wear sunblock. You might not need sunblock on an April Day in Seattle, but Oahu is closer to the equator and sunburns are more common. Pearl Harbor has many nice sites that are not shaded and you will be exposed to direct sunlight. We also recommend wearing a hat.
Dress appropriately. You will be visiting memorials. Park rangers may prohibit you from boarding the Arizona Memorial if you are wearing swimwear or other revealing clothing.
Charge your phone/camera. There are plenty of photos to take at Pearl Harbor. It is visited by survivors and celebrities that you might be able to get a selfie with.
Decide which of the Pearl Harbor Sites you want to visit. You can spend a few hours or the entire day. It all depends on your interest level and your schedule.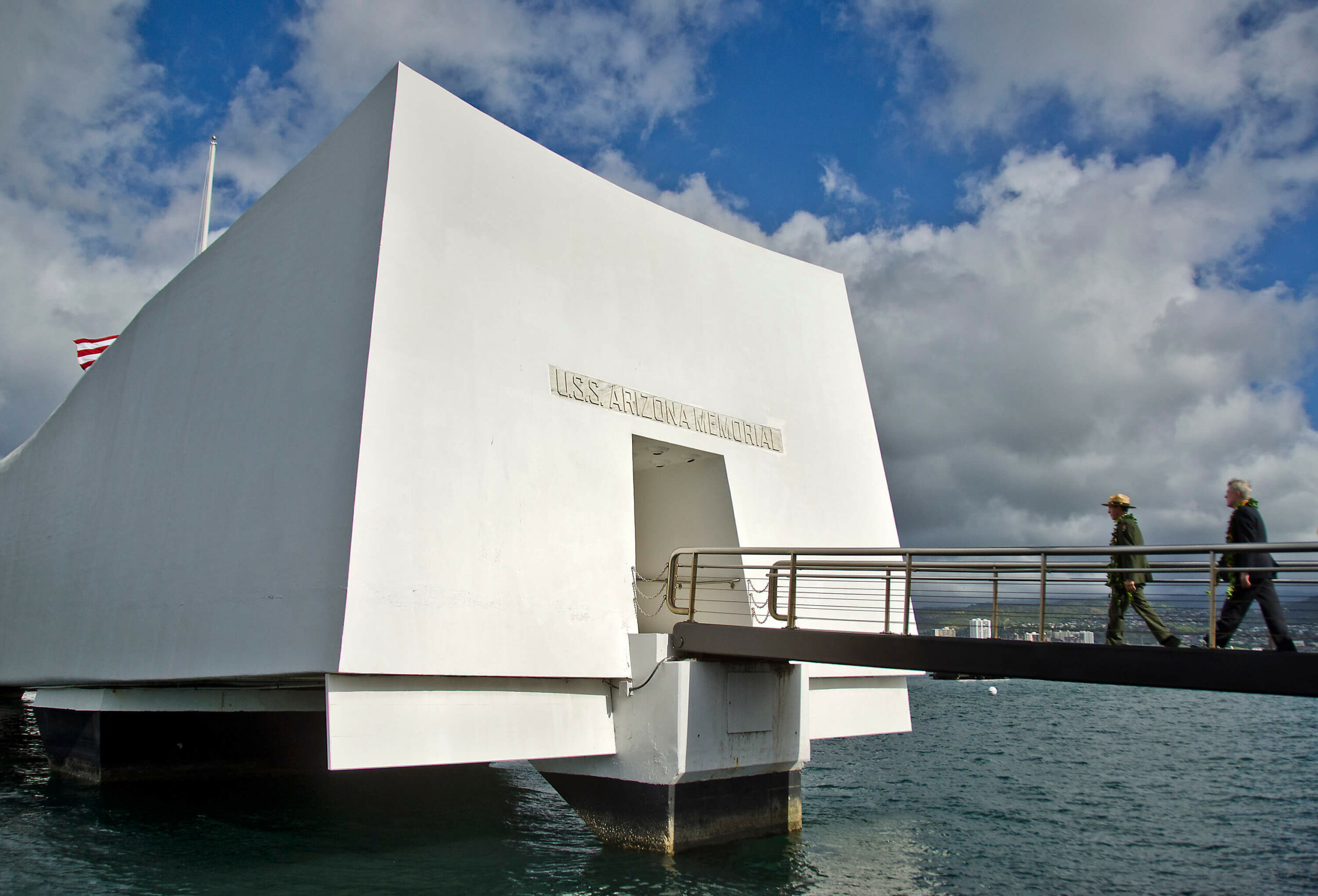 Pearl Harbor Experience Don'ts:
Show up at Pearl Harbor without tickets. About a decade ago everyone had to show up early in the morning and wait in line for hours to get tickets.  Things have changed for the better. Now you can book a Pearl Harbor Tour and your reservations will be included. Some people still show up at Pearl Harbor and get tickets, but those folks are often disappointed because they have a 3 hour wait.
Buy your tickets on the street in Waikiki. There are people selling shuttle tickets to Pearl Harbor in Waikiki. Unlike our tours these are not Authorized. That means that they cannot actually take passengers to Pearl Harbor. Their passengers must get off the van off-property and walk in the sun to Pearl Harbor.  The other problem visitors have experienced with these shuttles occurs when a round-trip is purchased and the driver does not return to Pearl Harbor.  He/she has already taken their money and doesn't bother.  Avoid shuttles.
Forget to read the security policies. Everyday the security guards at the entrance to Pearl Harbor have people trying to convince them that they should make an exception to the bag policy and allow their bag. The outcome is always the same: the visitor has to pay a fee to store the bag outside. You can not bring bags in to Pearl Harbor. This is one of the Pearl Harbor security policies that you should be aware of.
As you can see there is more to a complete Pearl Harbor experience than showing up, watching the film, and boarding the Arizona Memorial. It is a busy place and being prepared will give you an advantage and hopefully save you money, time, and save you from a sunburn.