The Only Mission of USS Liscome Bay
On December 9, 1942, just over a year after the United States suffered the attack on Pearl Harbor, the keel of a new Casablanca–class escort carrier was laid down at the Kaiser Shipbuilding Company in Vancouver, WA. Launched in June of 1943, the new ship was christened USS Liscome Bay (CVE-56), and commissioned into the U S  Navy on August 7, 1943 under the command of Captain Irving D. Wiltsie.
Two months after starting her service in the Navy, Liscome Bay departed San Diego for Pearl Harbor to take part in initial drills and exercises. When finished, she joined Carrier Division 24 and sailed from Pearl Harbor with Task Force 52 for the invasion of the Gilbert Islands. It would be her first and last combat mission in the Pacific War.
The First—and Last—Operation of USS Liscome Bay
On November 20, 1943, Task Force 52 arrived off the shores of the Gilbert Islands to launch the first major American engagement in the Central Pacific. Within three days, Tarawa and Makin Islands were taken by the United States, though Liscome Bay had yet to launch any aircraft to take part in the sorties to disable Japanese airbases and support Army landings.
With the success of Operation Galvanic and the takeover of Tarawa, the task force started to steam toward Butaritari Island. At the around the same time, the Japanese submarine I-175 arrived off Makin Island.
On the morning of November 24, 1943, Liscome Bay was preparing aircraft for her first participation in a combat operation. As her crew fueled and armed the planes, I-175 was preparing her attack from an undetected position. At approximately 0510, a lookout aboard Liscome Bay spotted a torpedo rocketing toward the carrier escort. Moments later, it struck, detonating the bomb magazine. The explosion ripped through the ship, spreading shrapnel up to 5,000 yards away and raining debris on the nearby USS New Mexico (BB-40).
All of the men behind the forward bulkhead of the after engine room were killed in the massive explosion. The forward hangar burned and destroyed what planes remained on the flight deck. Within 23 minutes, the carrier escort started to list to starboard and quickly began to sink. From a single torpedo strike, Liscome Bay lost over 700 officers and men. Only 272 crewmen were rescued.
A Pearl Harbor Hero Perishes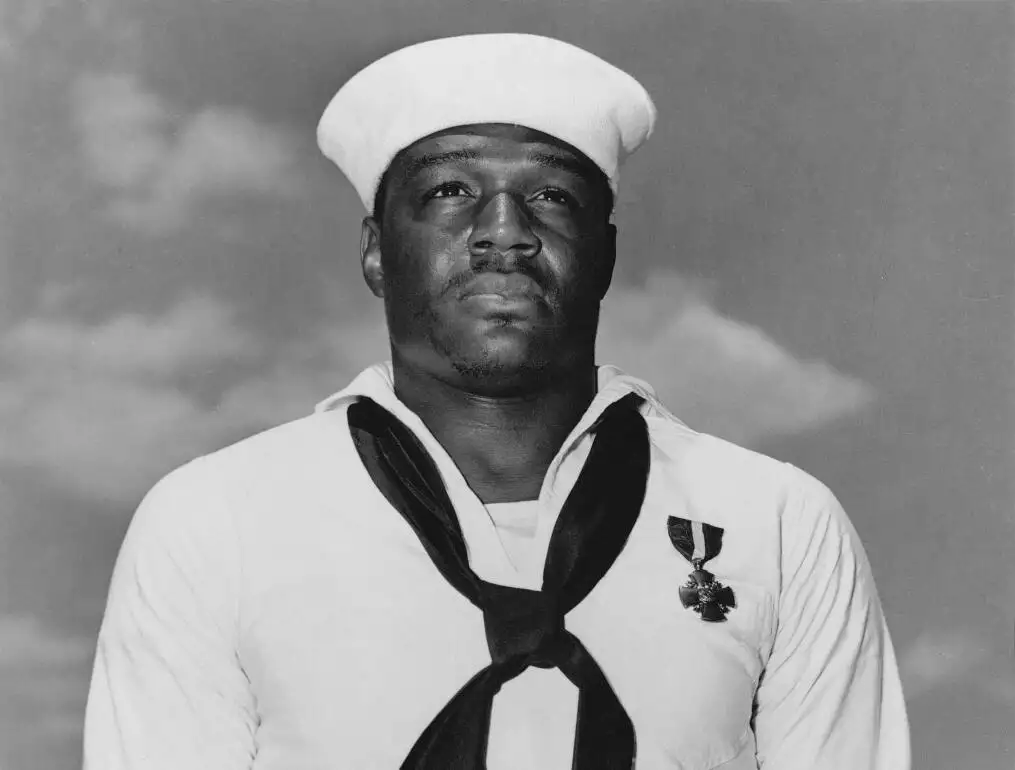 Among the sailors lost in the explosion and sinking of the ship was Messman Third Class Doris "Dorie" Miller, who had survived the torpedoing of USS West Virginia (BB-48) during the December 7, 1941 attack on Pearl Harbor that launched the United States into World War II. Miller was recognized for his heroism at Pearl Harbor with the Navy Cross and, after the sinking of Liscome Bay, he was posthumously awarded a Purple Heart.
USS Liscome Bay was awarded one battle star for her brief service in the war.