The Most Worry-Free Pearl Harbor Tour
When you book a tour or other adventure in Hawaii, it's easy to find yourself overwhelmed by details. What about food? How are you going to get to your destination? Will you get to see and do everything you want? These questions can be especially important when you're considering the different Pearl Harbor tour options. After all, you might not get another opportunity to experience this deeply historic site, so you want it to be the best and most worry-free Pearl Harbor tour you can get.
You've done your research on all the various Pearl Harbor tours, figured out which sites you don't want to miss, and considered everything you want from a tour, and the bottom line is: you want the most worry-free Pearl Harbor tour available. A tour where you can just relax and not have to think about schedules, transportation, and squeezing in time to eat.
To have all of that—and more—taken care of for you, our recommendation is the Beyond the Call to Duty Luxury Pearl Harbor tour. With pick-ups available in Waikiki and Ko Olina, it doesn't get more complete and worry-free than this!
So, what makes this particular tour the most worry-free? Let's break it down.
Transportation
Any good tour starts with a comfortable ride to your destination. The Beyond the Call to Duty Luxury tour offers a bit more than that, with a luxurious tour vehicle to whisk you to and from Pearl Harbor.
Your luxury vehicle picks you up in Waikiki or Ko Olina, and drops you off after the tour ends. Along the way, expect to hear stories about Pearl Harbor and the history of Oahu from your knowledgeable and friendly guide.
What Will I See?
A better question might be "What won't I see?" because the answer would be a lot shorter! This worry-free Pearl Harbor tour includes admission to all of the attractions. That includes the Pearl Harbor Visitor Center, the USS Arizona Memorial program, the USS Oklahoma Memorial, the Battleship Missouri, the USS Bowfin Submarine Park and Museum, and the Pearl Harbor Aviation Museum!
And that's not all. After you've seen all there is to see at Pearl Harbor, your tour takes you into historic downtown Honolulu, where you see 'Iolani Palace and the Hawaii State Capitol Building, and make a quick stop at the iconic statue of King Kamehameha I, the man responsible for unifying the Kingdom of Hawaii. You also drive through the Punchbowl National Memorial Cemetery of the Pacific, the final resting place for thousands of American service members.
You want everything, and the Beyond the Call to Duty tour delivers!
Food and Beverages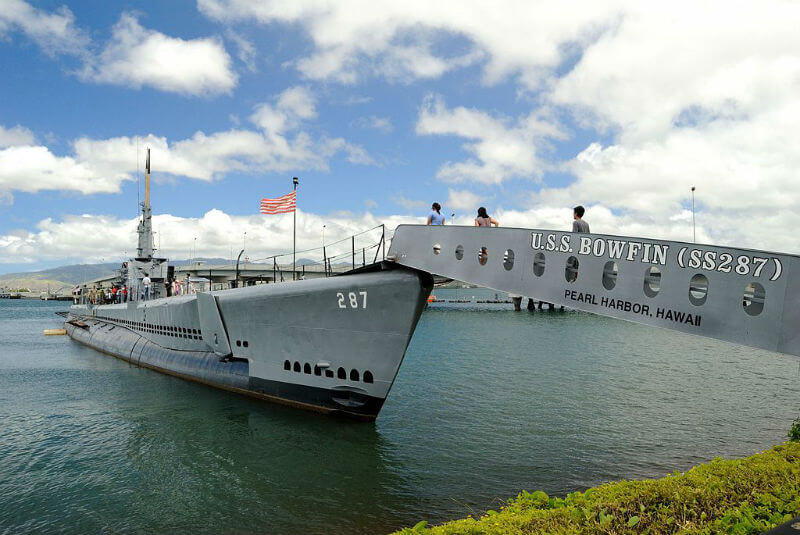 You need to stay fueled up during this 11-hour tour, and with the Beyond the Call to Duty tour, you won't go hungry! When you're picked up in the morning, breakfast pastries and chilled water await you, and later on in the tour, you're treated to a full lunch buffet. There is also a variety of snacks available at shops located around Pearl Harbor.
So, Is There Anything I Do Need To Worry About?
Not much, honestly. Just be sure to be at your designated pick-up location on time and don't bring any bags, as they're not permitted at Pearl Harbor. Wear comfortable shoes—you'll be doing quite a bit of walking—and don't forget to apply, and re-apply as needed, sunscreen.
If you're looking for the Pearl Harbor tour that takes care of pretty much every detail for you, it doesn't get any simpler than the Beyond the Call to Duty Luxury tour.