The Hospital Ship USS Solace
For 14 years, the SS Iroquois sailed the world's waters as a passenger ship. It was a relatively quiet and calm life, save for the possibility of the occasional seasick passenger or inclement weather. No one could have foreseen the changes she would undergo after the United States Navy acquired her in July of 1940, most notably a name change to the USS Solace, with the new designation AH-5. She also received a paint job to include the iconic Red Cross, a symbol of her new status as a hospital ship.
USS Solace was commissioned into the Navy on August 9, 1941, and in December, she was at Pearl Harbor, where she would see her first real action.
USS Solace at Pearl Harbor
USS Solace was thrust into a leading role during the December 7, 1941 attack on Pearl Harbor. From her deck, a doctor named Eric Haakenson was filming when the USS Arizona (BB-39) exploded into flames and smoke, soon after the Japanese forces launched their devastating attack.
The crew of Solace didn't hesitate to assist the stricken battleship, and launched stretcher parties to evacuate men floating in the burning, oil-slicked water. Shortly after Arizona was struck, USS West Virginia (BB-48) started to take heavy damage, forcing Solace to divide her attention between the two battleships. It wasn't long before men from a third ship, USS Oklahoma (BB-37), required attention.
USS Solace in the Pacific Theater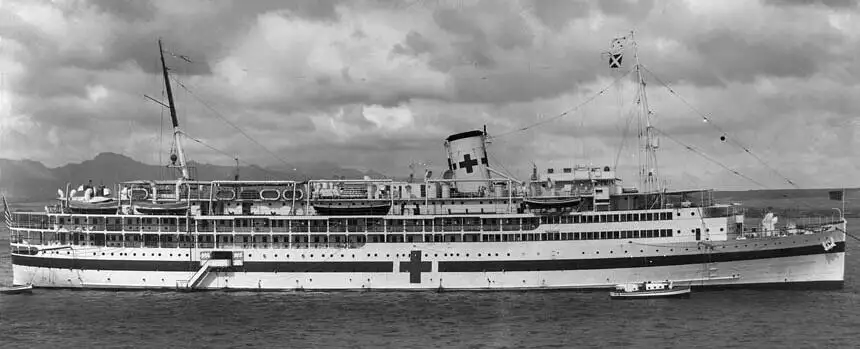 Pearl Harbor was only USS Solace's first involvement in the War in the Pacific. In March, 1942, she was sent to the South Pacific, first to Samoa. Between April and August, she was based at Tongatapu. In early August of 1942, Solace sailed for New Zealand. Between then and May of 1943, she shuttled between Auckland and New Caledonia, Espiritu Santo, and the Fiji Islands, treating wounded from the various campaigns.
For much of her time in World War II, she was able to avoid direct contact with the enemy, but in February of 1945, at Iwo Jima, enemy shells fell within 100 yards from her.
Her career caring for the wounded and sick ended when she was sent to Oregon for an overhaul in July of 1945. By the time the work was completed and the ship relaunched, the war had ended, and Solace took part in Operation Magic Carpet, transporting returning servicemen back to the US mainland.
USS Solace was awarded seven battle stars for her service in World War II.
Her final voyage brought her to San Francisco in January of 1946. On March 27, 1946, USS Solace was struck from the Naval Vessel Register. In April of 1948, she was sold to the Turkish Maritime Lines and renamed SS Ankara.