A Very Special Birthday Present
What do you get a man who survived one of the most devastating events in United States history, a 97-year-old survivor who's seen the world change time and time again, for his birthday? At this point, Mickey Ganitch likely doesn't expect much from his birthdays, but for his 98th, which he celebrated on November 18th, 2017, he received a gift that anyone would be honored to receive.
A Gift for Mickey Ganitch
On December 7th, 1941, Michael Ganitch was serving aboard the USS Pennsylvania (BB-38), working as a navigator. The vessel hadn't left the harbor and wasn't scheduled to on that day, so his work load looked to be light. With the Pennsylvania in dry dock, there was nowhere to navigate to. While he enjoyed the serenity of the morning, Ganitch's world was turned upside down when a swarm of unknown aircraft flew into the harbor's airspace and began dropping bombs and torpedoes.
The craft flew so low that the sailors could identify their country of origin by the tell-tale markings on the wings. The Japanese were attacking and even though she was dry-docked, the Pennsylvania became the first battleship to return fire on the incoming fighters and bombers.
The young Mickey Ganitch survived the attack, taking from it memories that he'll never lose and the distinction of being an American hero; and it's that last part that caught the attention of the Navy Hale Keiki School in Honolulu.
With his birthday just around the corner, the school decided to do something to honor the aging veteran. According to the school's principal, Monique Raduziner, Ganitch "embodies everything [the school] wants [its] kids to be."
A week ahead of his 98th birthday, and the day before Veterans Day, Navy Hale Keiki School unveiled a sign in front of their new library. On it was Mickey Ganitch's name. Though he thought he was appearing at the unveiling simply to talk to students, Ganitch realized that, for his birthday, the school dedicated the library to him.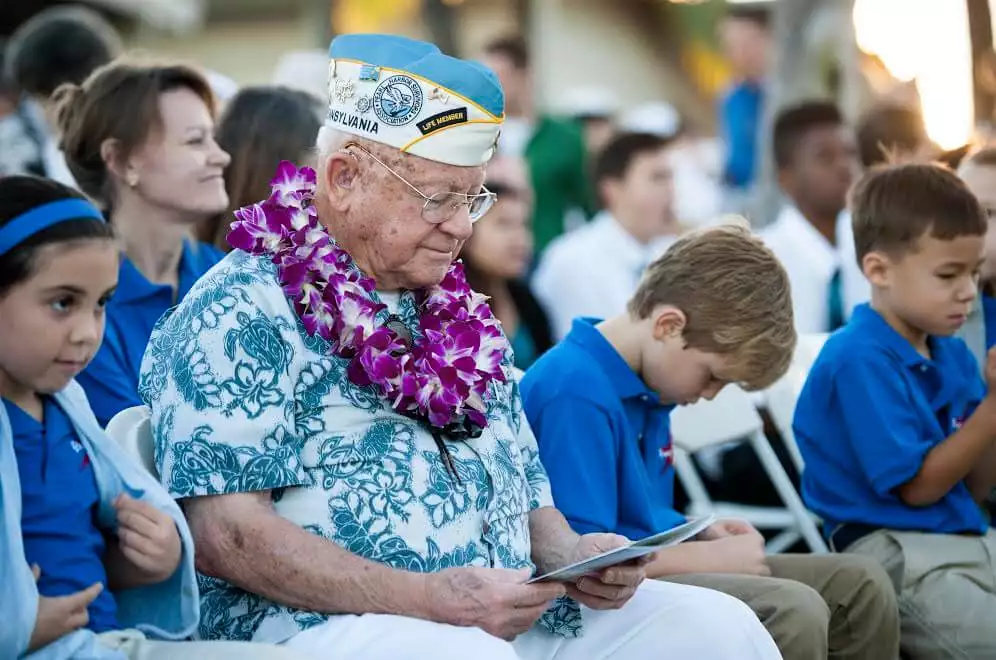 Honoring Pearl Harbor Survivors
The survivors of Pearl Harbor play a unique role in the preservation of history. To allow them—and the stories they share—to fade away would be a great loss the nation's collective memory. While the dedication to Ganitch is a kind gesture to honor the veteran, it also has a lasting importance in ensuring that, at least for the students of Navy Hale Keiki School, the attack on Pearl Harbor will always be in the back of their minds when they walk into that library.