Ships of Pearl Harbor: USS Tangier
Originally laid down in 1939 as a cargo ship for the United States Maritime Commission, USS Tangier (AV-8) was converted into a seaplane tender and commissioned into the US Navy on August 25, 1941.
After a shakedown cruise, she was assigned to Patrol Wing 2 in Hawaii. Just over a month before the Imperial Japanese Navy attacked Pearl Harbor, USS Tangier arrived and moored aft of USS Utah (BB-31/AG-16). For the next month, Tangier worked on her seaplanes, unaware of the horrors that were coming.
USS Tangier on December 7, 1941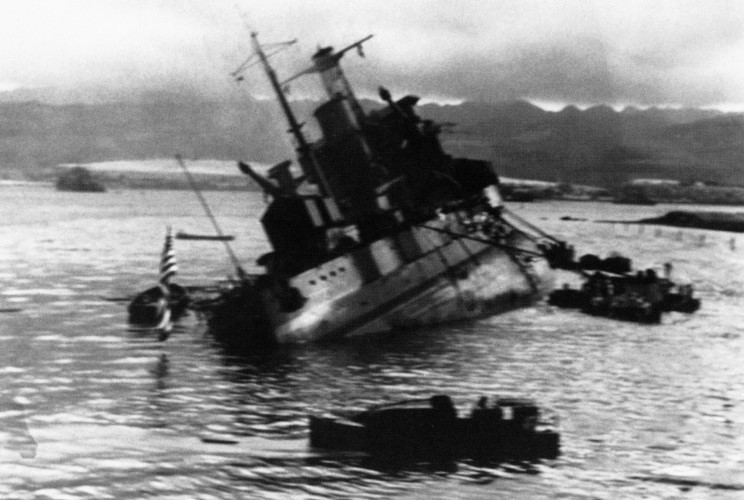 On the morning of December 7, 1941, USS Tangier was still astern of Utah when the first wave of Japanese aircraft flew into Pearl Harbor. Utah, which had been converted from a battleship into a target ship, eventually capsized after taking extensive damage from Japanese torpedoes, but Tangier came through unharmed.
The crew of USS Tangier was ordered to general quarters within three minutes of the first bombs dropping, immediately firing on the incoming aircraft. Tangier's gunners were credited with downing three enemy aircraft and causing damage to a midget submarine that made it into the harbor.
While Tangier fought off incoming aircraft, a PBY-5 Catalina that had launched from the seaplane tender on a search mission was attacked by nine Japanese aircraft. The Catalina's pilot somehow outmaneuvered the much quicker Mitsubishi Zero fighters and managed to land safely. After the attackers pulled back from Pearl Harbor, Tangier's crew shifted focus to assisting survivors of the destroyed Utah.
USS Tangier Goes to War
Soon after the attack on Pearl Harbor, it became that Japan's next target would be a takeover of Wake Island. USS Tangier was loaded with supplies and ammunition and joined the aircraft carrier USS Saratoga (CV-3), but before the convoy could reach Wake Island, the defenders were overrun and forced to surrender. Tangier and the others were ordered back to Oahu.
After remaining at Pearl Harbor for nearly two months, USS Tangier was ordered to sea again, this time to New Caledonia, where she replaced USS Curtiss (AV-4) as tender for six PBY Catalinas. For about three months, her crew performed tender services for the Catalinas performing long-range searches from New Caledonia. By the fourth month, with action in the Coral Sea imminent, she received six additional seaplanes.
When the Battle of Coral Sea unfolded, Tangier's craft never had the opportunity to engage the Japanese. Instead, they rescued survivors from the destroyer USS Sims (DD-409) and oiler USS Neosho (AO-23), which were sunk when the Japanese mistook them for a cruiser and carrier. When the search for survivors ended, Tangier's planes returned to searching the Pacific until Curtiss returned to relieve her on June 20, 1942. Tangier then returned to the West Coast of the United States for an overhaul that ran into early 1943.
For much of 1943, USS Tangier transported equipment between the US mainland and Espiritu Santo. In the latter part of the year, she sailed twice between Pearl Harbor and American Samoa, once more to Espiritu Santo, and finally to San Diego for another overhaul in November. This one lasted until February 21, 1944, at which point Tangier returned to Espiritu Santo en route to Brisbane, Australia. After about three weeks at Brisbane, she moved north to New Guinea to provide support to General MacArthur. On September 21, she supported the invasion of Morotai.
Though Tangier saw some action during the course of World War II, most of her time was spent launching planes for search missions and transporting aircraft equipment.
On March 22, 1946, Tangier sailed for the United States, stopping in Pearl Harbor, before sailing to Philadelphia for decommissioning. On June 1, 1961, USS Tangier was struck from the Naval Vessel Register.