Ships of Pearl Harbor: USS Pennsylvania
Unlike the others seven US Navy battleships present at Pearl Harbor on the morning of December 7, 1941, the USS Pennsylvania (BB-38) wasn't lined up on Battleship Row along the southeast coast of Ford Island, and therefore avoided the major damage those ships sustained in the Japanese attack.
USS Pennsylvania Before Pearl Harbor
Following her commissioning in 1916, the USS Pennsylvania participated in multiple Fleet maneuvers. These activities continued through the 1920s. The young battleship joined the US Pacific Fleet in 1922.
From 1931 to 1941, Pennsylvania took part in Fleet tactics and other battle practice, and became one of the first ships to be equipped with the RCA CXAM-1 radar. Shortly after, she underwent an overhaul, gaining additional 5" 25 caliber guns—increasing the number to 12—and in January of 1941 sailed for Hawaii, where she participated in operations with units of Task Forces 1 and 5.
Attack on Pearl Harbor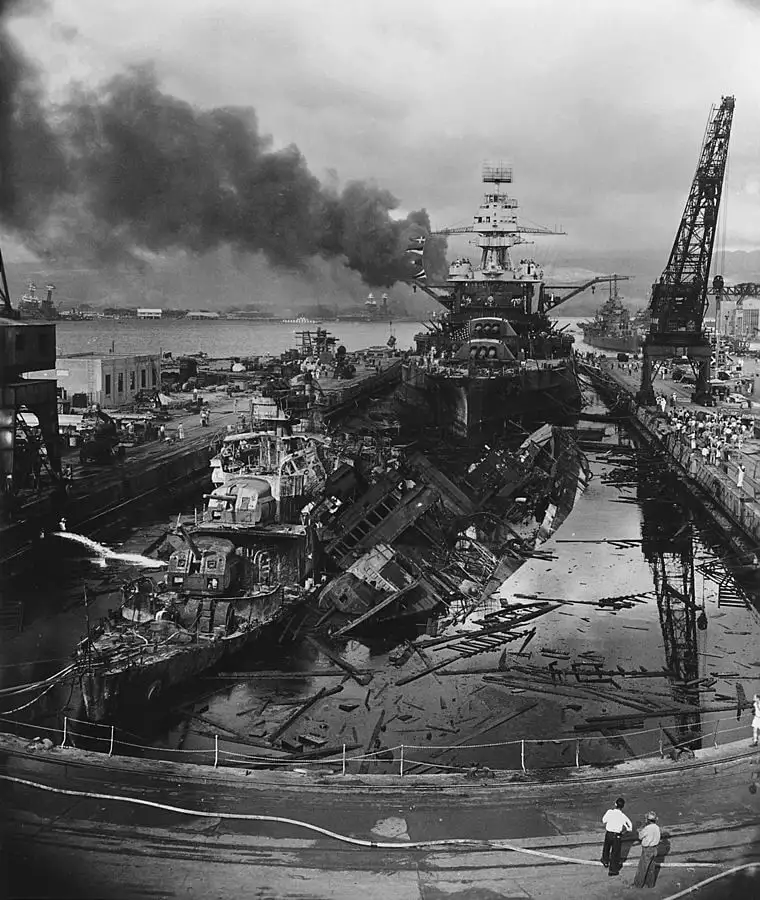 On the morning of December 7, 1941, the USS Pennsylvania was dry-docked in the Pearl Harbor Navy Yard, away from her fellow battleships. Though technically out of service, when Japan's strike force attacked, her crew didn't hesitate to take up arms. As bombs started to drop on the ships moored along Battleship Row, Pennsylvania's guns continued firing in a futile attempt to fend off the onslaught of fighters and bombers.
Though her place in drydock kept her safe from torpedoes, Pennsylvania did suffer a bomb strike that killed the crew manning a 5" gun mount. Fighters strafed the battleship, but the bulk of her damage came from flying debris from the nearby destroyers, USS Cassin (DD-372) and USS Downes (DD-375). Part of Downes, a 1,000-lb torpedo tube, struck Pennsylvania's forecastle.
When the attack was over, the USS Pennsylvania had 15 crewmen dead and another 14 missing.
The USS Pennsylvania and World War II
Unlike many of her fellow battleships of the Pacific Fleet, Pennsylvania suffered manageable damage that allowed her to return to training as early as April of 1942. While several vessels were still undergoing repair, Pennsylvania's crew prepared for the war that awaited in the Pacific. After serving as host of a ceremony to present the Navy Distinguished Service Medal to Admiral Chester W. Nimitz for his command of the Pacific Fleet since Dec. 31, 1941, Pennsylvania took part in operations to intercept any Japanese forces that intended to attack the United States West Coast.
After the United States scored a much-needed victory at the Battle of Midway, Pennsylvania sailed for San Pedro, CA, where she remained until August 1, 1942. After a series of further exercises in Pearl Harbor and a major overhaul in San Francisco, Pennsylvania sailed for Alaska in April of 1943, where she provided shore bombardment in support of landing troops.
Over the course of 1944, the USS Pennsylvania participated in bombarding Kwajalein Island and continued on to Eniwetok. Pennsylvania was present for operations in the Marianas, Saipan, Orote Point, and Leyte Gulf. 1945 proved equally as productive as she bombarded Santiago Island, patrolled the South China Sea, and bombarded Wake Island just prior to Japan's surrender.
On August 12, 1945, Pennsylvania was struck by a torpedo while at anchor at Buckner Bay in Okinawa and suffered damage that killed 20 crewmen. After flooding was controlled, she was towed to shallower waters to allow for salvage operations.
After being used as a target ship for the atomic bomb tests of Operation Crossroads at Bikini Atoll, the USS Pennsylvania was decommissioned on August 29, 1946 and on February 10, 1948, she was sunk just off Kwajalein. Nine days later, the USS Pennsylvania was struck from the Naval Vessel Register.
For her service, the USS Pennsylvania was decorated with the Navy Unit Commendation, World War I Victory Medal (w/ Atlantic Fleet clasp), American Defense Service Medal (w/ Fleet clasp), Asiatic-Pacific Campaign Medal (w/ eight stars), World War II Victory Medal, and Navy Occupation Medal (w/ Asia clasp).