Ships of Pearl Harbor: USS Chew
On January 2, 1918, the keel of a future Wickes-class destroyer was laid down at the Union Iron Works shipyards in San Francisco. She was one of 111 of that class of destroyers built between 1917 and 1919, at the tail end of World War I and the year after it ended. On May 26, 1918, the new ship was launched and on December 12 of that year, a month after the war ended, she was commissioned into the US Navy as USS Chew (DD-106).
First Commission of USS Chew
Chew remained in service for only four years, taking part in the escort mission for the first transatlantic seaplane flight made by a Curtiss NC-4 craft. Chew was placed in reduced commission in November of 1919. In this state, she occasionally operated  with Naval reservists but was ultimately placed out of commission on June 1, 1922.
Second Commission of USS Chew
As the United States Navy started to mobilize in response to the outbreak of war in Europe, USS Chew was recommissioned on October 14, 1940 and was attached to Defense Force, 14th Naval District. She arrived at her home port of Pearl Harbor in December, and spent the next year on patrols and training as part of Destroyer Division 80.
Attack on Pearl Harbor
When Japan launched the surprise attack on Pearl Harbor that Sunday morning, USS Chew was moored in Berth X-5 next to the destroyer USS Allen (DD-66) and USS Baltimore (C-3), a decommissioned cruiser that was being used for storage. Chew was one of first ships able to return fire on the Japanese attackers quickly. As her crew wasn't under pressure from incoming fire, she was able to bring her 3" 23-caliber guns into action by 0803. Within another eight minutes, her .50 caliber machine guns were up and firing on the incoming Japanese planes. Some of the crewmen not firing Chew's guns made their way to the battleship USS Pennsylvania (BB-38) to help man her guns and fight fires.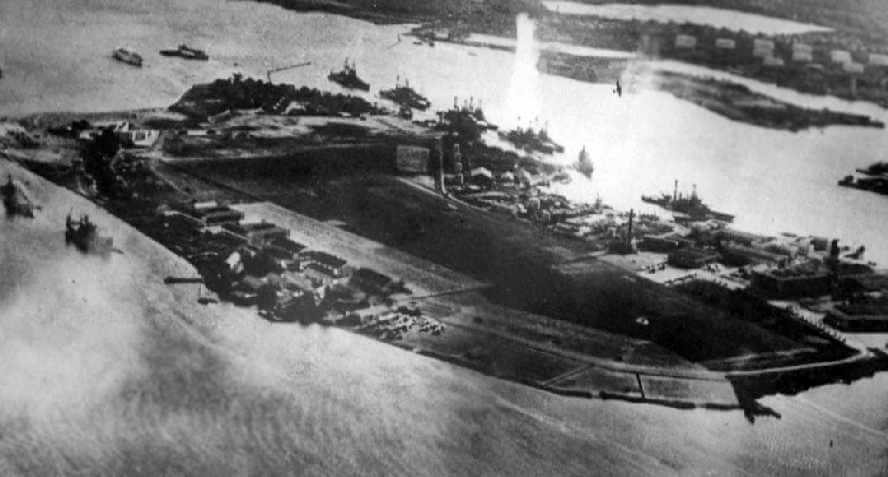 According to the activity report of the attack, USS Chew downed one Japanese aircraft with her 3" guns and damaged two more. Her guns didn't stop firing until the last of the attacking planes withdrew. Immediately after, Chew got underway to patrol the entrance to the harbor in search of Japanese submarines. She dropped 28 depth charges, and it was initially reported that she sank two Japanese submarines, but later reports seem to refute that claim.
After the Attack
USS Chew remained at Pearl Harbor until the end of the war, patrolling the harbor and surrounding waters. When not patrolling, she escorted vessels between the islands and made several trips to the West Coast as part of escort convoys.
On October 10, 1945, Chew arrived in Philadelphia, where she was decommissioned. One year later she was sold for scrap.
For her service in World War II, USS Chew was awarded one battle star.