Ships of Pearl Harbor: USS Avocet
On September 17, 1918, the USS Avocet was commissioned as a Lapwing-class minesweeper with the hull designation (AM-19). For seven years, she maintained this designation, sailing under the command of Lieutenant Christian Crone. In that seven-year span, Avocet took part in multiple tests and exercises, but never saw any combat. It wasn't until years after her recommissioning, in 1925, as a seaplane tender bearing the new designation (AVP-4) that the ship would get her first taste of war.
Sixteen years after being recommissioned, the USS Avocet found herself stationed at Pearl Harbor, the site of the December 7, 1941 Japanese attack.
USS Avocet and the Attack on Pearl Harbor
Moored on the southeastern side of Ford Island, Avocet's crew watched in horror as Japanese warplanes flew into Pearl Harbor and started bombing the seaplane hangars nearby. As the first bombs dropped, general quarters was sounded and the crew sprang into action, transporting ammunition to the few guns she had.
Not many Japanese aircraft were shot down during the attack, but Avocet's crew was credited with downing one on their first shot. The plane was a Nakajima B5N2 "Kate" that had launched a torpedo at the USS California (BB-44). The sky was filled with a variety of Japanese aircraft, but Avocet was focused at first on downing torpedo planes. Next, they tirned their attention to the dive bombers, in hopes of preventing any further damage to the ships being attacked nearby.
Aiding the USS Nevada (BB-36)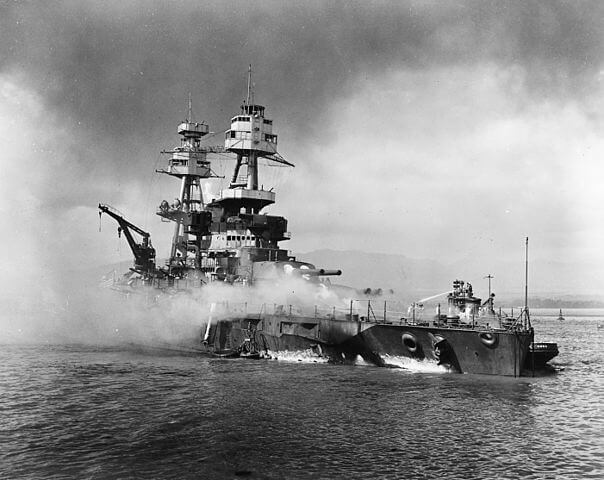 From her position, Avocet had a clear line of sight to the USS Nevada (BB-36), which was making a run for the open sea and became a target of the Japanese bombers. As Nevada struggled to escape the barrage, Avocet fired her guns to try and provide cover. Nevada never made it out of the harbor. To avoid sinking, her crew beached her at nearby Hospital Point.
Avocet managed to make it through the deadly morning with no damage, despite actively firing on the Japanese attackers. By the time the attack ended, her crew had fired off 144 rounds, scoring one confirmed kill. Her crew came through largely intact, though two men were lightly injured in separate incidents. One had a box of ammunition dropped on his foot, while the other was hit with shrapnel. Both crewmen survived and Avocet even gained a man when a sailor from the USS Swan (AVP-7), a sister seaplane tender, couldn't get to his ship to report for duty.
During the cleanup and rescue after the attack, Avocet was ordered to assist with fighting fires, first on the California and later on the Nevada.
Avocet survived through World War II, and was finally decommissioned on December 10, 1945.