Remembering Pearl Harbor - 76 Years Later
A droplet of oil spreads on the glassy surface of the harbor. Beneath it, a rusting wreckage, a memory of bombs, torpedoes, and machine gun fire. The destruction of the USS Arizona is among the most powerful images produced during the December 7, 1941 Japanese attack on Pearl Harbor.
Each year, the World War II Valor in the Pacific National Monument draws more than 1.8 million visitors from the US mainland, from Europe, Asia, and every other region of the world. It's a monument to the devastating losses of the attack on Pearl Harbor, as well as to the changes that occurred afterward. It's a symbol of the history that has continuously unfolded since the first bombs fell on the mighty battleship Arizona, causing a ripple effect that led first to the  deaths of 1,177 American sailors on board, and then to the war in the Pacific, the fall of fascism, the Japanese defeat, and the rise of the United States as a world power.
More than three-quarters of a century later, that tragic attack and the devastating loss in a single day of 2,403 American lives remains among the most significant days in American history. Like the day the colonies separated from the British, the attack on Pearl Harbor was a turning point for the United States, a moment that transformed the nation and the way it sees itself in the world.
We Will Remember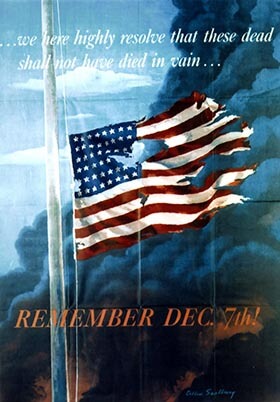 As the sun sets on the day of the 76th anniversary, it's important to not let the memory of the attack fade with it. Without that memory, we risk forgetting. Once we forget, our guard is dropped and that complacency leaves us vulnerable to a similar attack. As the number of surviving eyewitnesses to the attack dwindles, the task of passing on the lessons of Pearl Harbor to the younger generations becomes ever more important.
This is why Pearl Harbor landmarks like the Pacific Aviation Museum and the Pearl Harbor Visitor Center offer programs to involve our youth in the history of their nation. Beyond what a textbook can teach them through words and pictures, these iconic locations and the lessons they share transport them back to the era of Pearl Harbor and create a strong bond between them and a pivotal time in their nation's history.
Whether it's the 76th anniversary or the 80th or even the 100th, the attack on Pearl Harbor must not fade into history, and as long as the National Park Service continues caring for the memorials and exhibits at Pearl Harbor, that memory will be safe.
As December 7, 1941 recedes further back in time, visiting Pearl Harbor becomes more vital in preserving our history. From the USS Arizona Memorial to the Battleship Missouri, the Pearl Harbor sites will continue to keep the memory alive.