America's Most Heroic: The Ships of Pearl Harbor
From any great battle, heroes are born. Though the ashes left behind tell tragic tales, the stories of the heroic acts that saved lives and deterred enemy forces should also be remembered. On December 7th, 1941, many brave men and women stepped up to protect their land from the surprise Japanese attack. The American response to the destruction at Pearl Harbor was largely fought aboard vessels of the United States Navy. Among the fleet of 100 cruisers, destroyers, and other ships of Pearl Harbor, eight battleships were the focal points of the Japanese assault. No ship was left unscathed and all experienced some loss of crew, but only one remains at the bottom of the harbor, having suffered the greatest loss of American crewmen.
The USS Arizona remains one of the most well-known relics of the attack on Pearl Harbor, mostly due to the memorial that sits above the ship's wreckage. Three other battleships, the Oklahoma, West Virginia, and California also sank in the skirmish, but were salvaged and returned to service to fight in World War II. Today, the tragic tale of the Arizona and her 1,177 lost crewmen is forever memorialized in the USS Arizona Memorial. Visitors travel back to 1941 when the first bombardment hit and are given an incredibly detailed look at the efforts of the Arizona and the other seven battleships. The Arizona is said to be crying 'black tears" as oil continues to rise from the wreckage.
Another battleship, the USS Missouri, contributed an incredible history of her own. Sent into the Pacific Theater of World War II in 1944, the Missouri survived long enough to serve as arguably the most prominent ship of the war: the Missouri was the site of the signing of the Japanese Instrument of Surrender, which took place in Tokyo Bay on September 2, 1945. After going on to fight in the Korean  and Persian Gulf Wars, the Missouri was eventually decommissioned and opened to the public for daily tours in Pearl Harbor.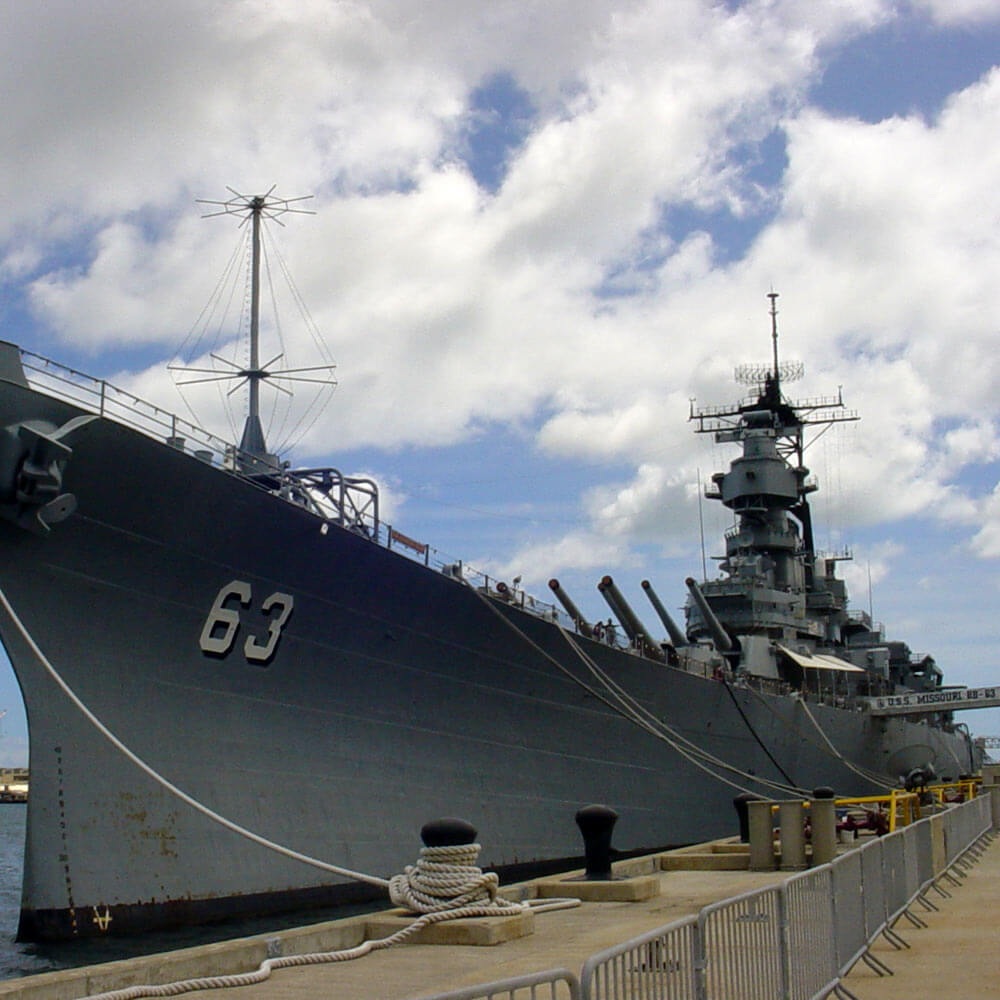 Almost 30 years after her service in World War II, the Bowfin submarine was moved to Pearl Harbor to become one of the most popular attractions there. The interactive tour of the submarine presents visitors with an up-close look at what life and war were like aboard these cramped vessels.
These Pearl Harbor memorials are a history buff's best chance to be drawn in to the history of the attack in 1941 and the United States' entry and involvement in World War II. Chronicling the war in the Pacific from beginning to end, the ships of Pearl Harbor including the USS Arizona Memorial, Bowfin submarine, and Battleship Missouri take visitors on a complete tour of the war and the heroes who emerged from it.