Pearl Harbor's Forgotten Battleship
Touring the World War II Valor in the Pacific National Monument at Pearl Harbor located on the south coast of Oahu, you can learn and understand the stories behind the battleships USS Arizona (BB-39), USS Missouri (BB-63), and the USS Oklahoma (BB-37). These ships are prominent features of the harbor, each with its own exhibits, but anyone who knows their history notices something missing from the assortment of memorials to the men of Pearl Harbor's most notable vessels: the forgotten battleship of Pearl Harbor.
The Arizona is known for being the location of the greatest tragedy from December 7th, 1941, and the Missouri served as the site for the Japanese surrender, a stark contrast. While the story of the Oklahoma isn't as well-known as that of the Arizona, and the ship has long since been lost to the Pacific, many know about her because of the memorial that's located next to the spot where the Missouri is moored.
These three battleships garner the bulk of the attention, but they're not the only ships that call the harbor their final resting place. There's also the USS Utah, a ship that even veterans recognize as the "ship no one remembers."
The Fate of the Utah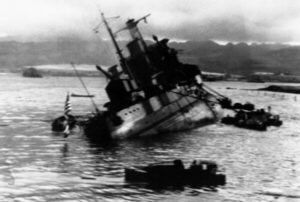 Today, the wreckage of the USS Utah sits off a part of Ford Island that's closed to the public. The battleship was the only one not in Battleship Row during the Pearl Harbor attack, but she still drew enough attention from Japan's fighters that she didn't survive the day.
By the time Japan swooped in on Pearl Harbor, the Utah wasn't a full-capacity battleship and was actually in use for anti-aircraft gunnery training. At the time of the attack, she stationed over 500 crewmen, 461 of whom survived the bombing. The ship, on the other hand, wound up capsizing. Many men aboard the Utah were rescued, but the ship herself was unsalvageable.
The Forgotten Legacy
While the USS Utah may not be one of the attack's more recognized casualties, she bred her own heroes like the other battleships. With the sounds of battle still filling the air, some of her crew—including Chief Watertender Peter Tomich, Pharmacist's Mate Second Class Lee Soucy, and Fireman Second Class John Vaessen—sprang into action, helping injured crew members and trying to stem the spreading damage.
The persistence of Japan's fighters eventually rendered the Utah inoperative, forcing her surviving crew to abandon ship and board the nearby USS Argonne. Today, the remnants of the Utah can be found almost exactly where she fell over 75 years ago. Contributing to her lack of fame is the fact that access to the memorial to the men of the Utah is only available to military personnel.