Pearl Harbor Tours from the Neighbor Islands
If you're staying on Maui, Kauai, or the Big Island of Hawaii, you may be wondering whether you'll be able to fit a visit to Pearl Harbor into your vacation. The answer is yes, but before you jump headfirst into booking a flight to Oahu for your Pearl Harbor tour, take a look at the questions and answers below.
When planning a visit to the Pearl Harbor National Memorial and the other Pearl Harbor Historic Sites from a neighbor island, the more information you have, the better.
What's the Best Way to Visit Pearl Harbor from Another Island?
A great thing about Hawaiian travel is you're free to explore at your own pace, but that freedom can come with bumps in the road and headaches that you may not have been expecting. Trying to set up your own Pearl Harbor tour requires a lot of planning. That's why we strongly recommend taking advantage of an inter-island package tour from Kauai, Maui, or the Big Island that includes your flights, ground transportation on Oahu, and admissions to the various Pearl Harbor sites. This really is the best way of seeing this historic place if you're staying on one of the neighbor islands.
What's Included in Pearl Harbor Tours from the Neighbor Islands?
When you visit Pearl Harbor from one of the other islands, you can opt for a complete tour of the all the sites, or see a bit less at Pearl Harbor and experience some of the other historic sites of Honolulu. Regardless of which tour you choose, you'll see the exhibits and galleries of the Pearl Harbor Visitor Center, experience the USS Arizona Memorial program, including a 23-minute documentary film about the attack, and explore the Battleship Missouri.
Some of the inter-island tours also visit the USS Bowfin Submarine Museum and Park and the Pearl Harbor Aviation Museum, while others include a drive through historic downtown Honolulu to see 'Iolani Palace and the iconic King Kamehameha statue.
Do I Need to Book My Own Air Travel?
The piece of the puzzle that can be the trickiest to coordinate is the travel between islands. This is one of the biggest benefits of an inter-island Pearl Harbor tour. Along with your flights, your ground transportation around Oahu is also included, so you're not stuck scrambling to make your own way to Pearl Harbor.
Does the Tour Include Transportation to the Airport?
Much of the transportation for your inter-island Pearl Harbor tour is included, such as the round-trip between Honolulu International Airport and Pearl Harbor. Transportation to and from the airport on your originating island is not included. There are several options for getting to the airport, including rental cars, ride-sharing services such as Lyft or Uber, and taxis.
Will I Have Time to Do Anything Else on Oahu?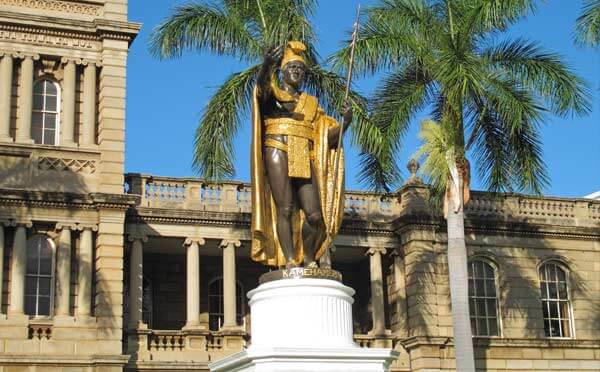 The structured nature of Pearl Harbor tours from the neighbor islands doesn't leave time to veer away from the included locations. The nature of an inter-island tour does limit your flexibility, but it makes visiting Pearl Harbor from another island much simpler than it would be if you tried to arrange it on your own.
What if I Decide to Stay Overnight on Oahu?
Unless money is no object, we highly recommend that you stick with your scheduled tour. There are several issues that arise should you decide to abandon the tour and remain on Oahu overnight. Most importantly is that you will forfeit your return airfare. As with virtually all air travel anywhere in the world, no-shows incur full charges and offer no option for a refund.
Another issue with leaving your tour is that you'll probably need to travel with luggage if you're planning on staying overnight. While you can pay to store a bag at Pearl Harbor, doing so will eat into the time available to explore the Pearl Harbor Visitor Center.
Can I Visit Pearl Harbor from Molokai or Lanai?
There are regularly scheduled inter-island tours from Kauai, Maui, and the Big Island. If you're staying on Molokai or Lanai, you can arrange a private Pearl Harbor tour that includes airport pickup in Oahu. Private tours don't include round-trip airfare, but you will enjoy the benefit of transportation between Honolulu International Airport and Pearl Harbor.
How Long is an Inter-Island Pearl Harbor Tour?
The duration of Pearl Harbor tours from the neighbor islands is approximately 12 to 13 hours, including flights.
Due to the length of these tours, we recommend that you don't try to schedule another activity on the same day. Use the time remaining after you return to "your" island to relax and reflect on everything you just experienced on your island-hopping adventure.