The Pearl Harbor-Tacoma, Washington Connection
Separated by over 2,500 miles of ocean, the city of Tacoma, WA and the naval base at Pearl Harbor don't seem to have much to connect them, but even 75 years after the devastating strike in Hawaii, there's an unexpected element that links the two together: the US Coast Guard Cutter Tiger (WSC-152).
Tacoma was alarmed by the Pearl Harbor attack owing to its proximity to the coastline and the fear of a Japanese strike on a mainland port city. Beyond that, there's no reason to assume that the city would have a piece of Pearl Harbor nearby.
The Coast Guard Cutter Tiger
The Japanese Attack on Pearl Harbor is often distilled into a few key facts:
Eight battleships were either damaged or sunk
Over 2,400 Americans were killed
The attack prompted America's entry into World War II
But there are other elements of December 7th, 1941 that are overshadowed by these important facts, one of which happens to be in Tacoma, moored at the local Tyee Marina alongside sailboats and other watercraft owned by local residents.
The now-stripped vessel was once a proud member of the United States Coast Guard, a cutter measuring approximately 125 feet long and launched in 1927. The Coast Guard Cutter Tiger isn't one of the more iconic ships of the Pearl Harbor attack, but she's another relic of the historic event that curious travelers can see on their travels along the west coast of Washington.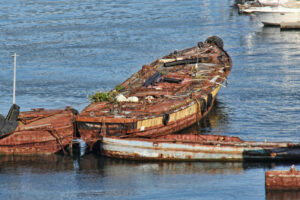 In 1941, the Tiger was sent to Pearl Harbor, coming under the control of the US Navy as part of its support fleet. She was in the middle of a patrol when Japanese fighters and bombers swooped out of the sky and released a relentless barrage of fire. Despite being in the midst of the attack, the Tiger emerged unharmed, although she never had the opportunity to fire back against the attackers.
After the attack, the Tiger was stationed at the entrance to Honolulu Harbor. Throughout her service, she saw only one other sign of battle, which was accidental friendly fire. After Japan's surrender, the vessel was decommissioned and sold off to a company that converted her into a tugboat.
Eventually, the Coast Guard Cutter Tiger was sold to the Tyee Marina, junked, and turned into a breakwater. Today, the once-proud ship can be seen, rusting away in the salty water. Though many history buffs would be interested in restoring a World War II-era vessel, especially one that was present at Pearl Harbor, the Tiger's condition makes it impossible to salvage.