Pearl Harbor Exhibits: Galleries of War
To learn about history, it's often best to go directly to the source. To know about the people and the events that surround a notable event, hearing their words and seeing the things they touched help bring you back to that day. You can learn all the facts and statistics about Pearl Harbor on the Internet, but the only way to truly understand it and find yourself immersed in the tragic history that surrounds it is to experience the Pearl Harbor exhibits at the site of the surprise Japanese attack over 75 years ago.
Road to War
Before the attack on Pearl Harbor, the United States had done everything it could to remain a non-participant in World War II. Though it assisted the Allies with supplies, its military force wasn't planning to enter the conflict.
The "Road to War" exhibit chronicles the time leading up to the declaration of war against Japan. Photographs, documents, and memorabilia paint a picture of what life was like before the attack on December 7th, 1941 and recalls the tension felt around the world.
Attack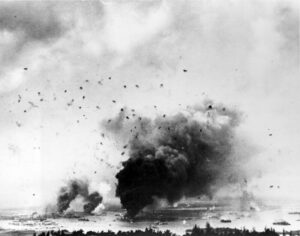 The "Attack" gallery focuses heavily on the attack itself, featuring newspaper articles from the day of the attack. Shocking headlines from coast to coast gave everybody in the country the clear picture that joining World War II was no longer a question, and that sudden shift in stance can be seen within this powerful exhibit.
Pearl Harbor memorabilia, photographs, and artifacts from the ships highlight the vast damage that was done by Japan's forces and sets the tone for the most somber exhibit of all – the USS Arizona Memorial.
The VR Experience
A recent addition to the trek through history, the virtual reality experience is a compelling way of reliving the December 7th attack. Through a headset, viewers walk the virtual decks of the USS Arizona on the morning of the attack.
Before long, the serenity of the scene shifts when the first explosion blasts through the air and Japan's fighters are swooping close to land. The VR experience gives some feel of just how terrifying it was to be at Pearl Harbor when the Japanese planes started their bombardment of Battleship Row and the surrounding air bases.
Memorials of War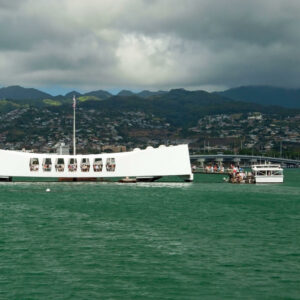 Beyond the galleries and exhibits, the World War II Valor in the Pacific National Monument is also home to the USS Arizona Memorial and Battleship Missouri, two vastly different experiences. Where the Arizona sits at the bottom of the harbor, visible from the Memorial above it, the Missouri provides an uplifting feeling on the deck where Japan signed the surrender documents that brought World War II to a close.
Even the real-life relics and artifacts viewed in "Road to War" and "Attack" can't prepare you for the experience of watching the oil—the Black Tears of the Arizona—perpetually dripping from a hole in her hull.