Pearl Harbor Etiquette
You're in Hawaii having the holiday of a lifetime. You've been shopping, you've had a great time roaming the beaches, sunbathing and enjoying some icy cold cocktails. Now you're planning your day out to Pearl Harbor. Your mind and body are in vacation mode but it's very important that you remember Pearl Harbor is not only still an active naval base, it is also a memorial site, paying tribute to thousands who died when Japan attacked on December 7, 1941. As such, there are some etiquette rules you need to follow.
First, you may have spent your time so far in Hawaii walking around in a bikini or buying up funny slogan tank tops and t-shirts, maybe a few pairs of cut-off shorts, and some bright and colorful sarongs. These are fine for walking around the beaches and shops, but when it comes to Pearl Harbor, you need to show a little more respect and cover up. That doesn't mean you need to wear long sleeves and trousers, just don't have too much flesh showing. Maybe slip a pair of cargo pants and a light shirt on over your usual attire. You'll still keep cool in the Hawaiian heat, but you'll be more welcome at the Pearl Harbor sites. It's respectful to those still working on the site and to those who lost their lives there. You also must wear shoes or flip-flops at all times.
Another thing that might surprise you: if you're in the military, you aren't allowed to wear a battle dress uniform onto the USS Arizona Memorial. Military personnel must wear dress whites or better, or service equivalent.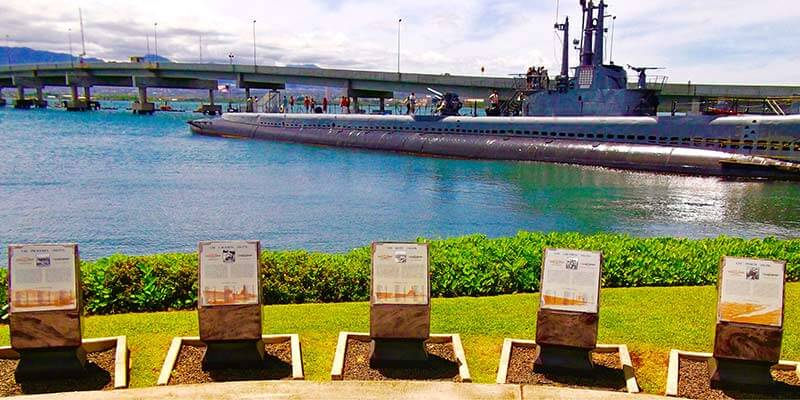 Second, you can't bring bags there. If you do decide to take a bag with you, you'll have to store them at the bag check for a fee. Plan ahead. This is another reason cargo pants come in handy, as you can use the pockets for your wallet and phone. Camera bags are also not allowed. If you have a baby, put diapers, wipes, and snacks in see-through containers or zipper bags that you can carry in the stroller's pockets.
Finally, you might be having a lot of raucous fun in Hawaii, but when visiting the memorial sites, it's time to tone it down. No one wants to be standing at a memorial, remembering those who lost their lives, only to have someone's loud cackle shatter the silence. Never forget what happened at Pearl Harbor 75 years ago, and show respect for those who died serving to protect our future. Be quiet, and do your best to keep your children under control. We all know that babies cry and toddlers tantrum, but out of respect for everyone else there, please prevent your children from running around screaming or playing.
Don't forget that although you're on vacation, you are visiting a site that suffered unimaginable devastation, so please remain respectful at all times.