Pearl Harbor and Circle Island Combo Tour
Not everyone can take more than a few days off to enjoy the Hawaiian Islands. Most of us are at the mercy of jobs and other responsibilities that keep us tethered close to our home base. With available time at a premium, it can be tricky to try and fit as much as possible into a few days in paradise.
You want to see and do as much as you can, and a great way to do that is by booking a Pearl Harbor tour that's much more than a lesson on the events of December 7, 1941. This tour is perfect for people who want to fill their day with as much as possible without having to bounce from one tour to the next. After visiting Pearl Harbor and paying your respects to those lost on the Day of Infamy, the Pearl Harbor and Circle Island Combo Tour takes you on a journey around the beautiful island of Oahu to multiple must-see locations.
This is the best way we know to experience the natural wonders and landmarks scattered around the island that help give Oahu its unique character.
Pearl Harbor and Circle Island Combo Tour Stops
Pearl Harbor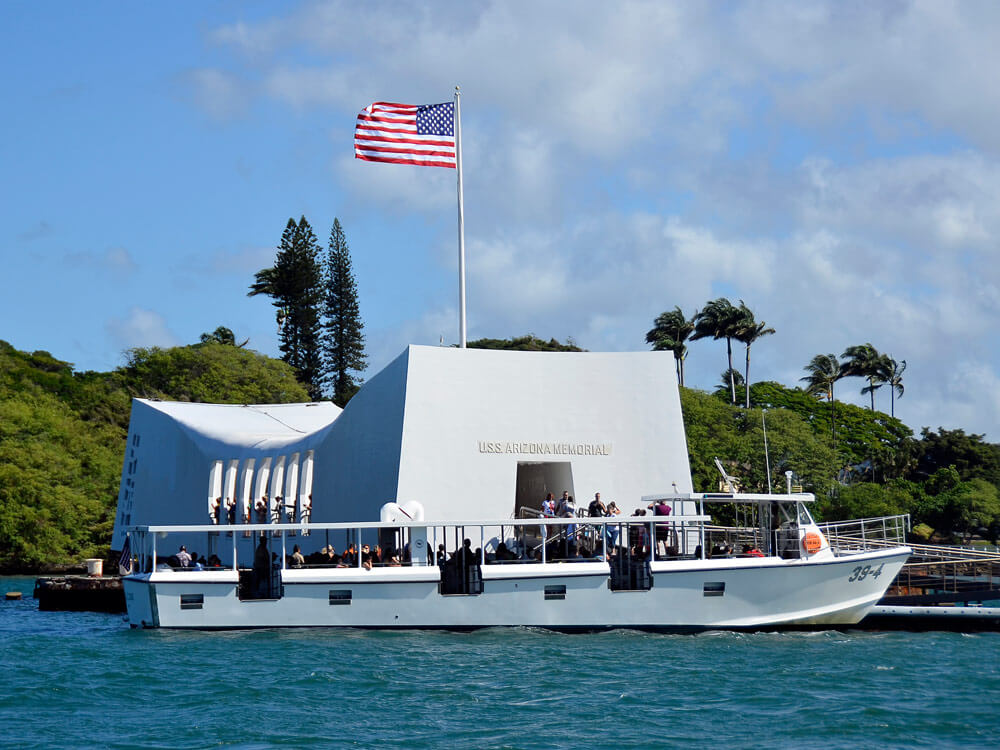 Your day starts bright and early, with a visit to the Pearl Harbor National Memorial, where you can explore the Pearl Harbor Visitor Center and see the two exhibits, Road to War and Attack!
After the Visitor Center, there's a screening of a 23-minute documentary film on the tragic events of December 7, 1941, after which a US Navy shuttle boat ride takes you to the USS Arizona Memorial, which sits above the fallen battleship (conditions permitting). Take a moment to honor the 1,177 men who gave their lives when their ship exploded and sank on that "date which will live in infamy."
Dole Plantation
It's quite a contrast to the experience at Pearl Harbor, but the Dole Plantation, located to the north of Honolulu, is your next stop. Here you can learn all about the Hawaiian pineapple industry, and get a taste of the sweet fruit that played such a large role in Hawaiian history.
The Dole Plantation is a wonderfully scenic slice of Oahu, with a giant plant maze manicured into the landscaping.
Oahu's North Shore
After the Dole Plantation, the tour continued to Oahu's famed North Shore. There are many things the northern coast is known for, but big-wave surfing is at the top of the list. If you're traveling in the winter, you're likely to see 25-foot waves, and sometimes even higher! When the conditions are good, the waters are teeming with professional surfers trying to navigate the monster waves.
Even when the waves aren't pumping, people come from all over the world to relax on the golden sandy beaches of the North Shore.
La'ie Point
Next, the tour makes its way around to the eastern coast of Oahu, toward La'ie Point. The scenic views from the tip of this jutting landmass are perfect for photos. Pay close attention and you may be able to snap pictures of people cliff-jumping.
Chinaman's Hat
Also known by its Hawaiian name Mokolii, Chinaman's Hat is a distinctive natural formation jutting out of the water just off the coast of Oahu near Kualoa Regional Beach Park. You won't be able to reach it by boat during your tour, but just gazing out at the incredible green and tan peak is a rewarding experience.
Pali Lookout
Pearl Harbor is a piece of relatively recent history, and the Dole Plantation plantation takes you back to the days of the Hawaiian Monarchy. Your next stop on the Pearl Harbor and Circle Island Combo tour a bit of much older Hawaiian history at the Pali Lookout. This breathtaking spot, which overlooks the Koolau Mountain Range and the beauty of central Oahu, has connections to King Kamehameha the Great and the birth of the unified Hawaiian Kingdom.
Hanauma Bay
Your next stop is Hanauma Bay. This stunning little slice of Oahu is a crescent-shaped beach on the southeastern corner of Oahu known for being a prime location for snorkeling. Many visitors decide to return on their own to this magical spot.
Diamond Head Crater
On the way back to your hotel, you get a fantastic view of Diamond Head Crater, the iconic formation just to the east of Waikiki.
See It All
It makes for a long day, but what a day it is! The Pearl Harbor and Circle Island Combo tour is a great way to get a taste of lots of different places around the island. Many visitors use this tour as a kind of scouting expedition, to help them decide which sites they want to return to later for a more in-depth experience.