The Pacific Aviation Museum: Going Beyond Pearl Harbor
When you arrive at Pearl Harbor to experience the World War II Valor in the Pacific National Monument and the other Pearl Harbor Historic Sites, you probably already know that you're in for a historical journey back to December 7th, 1941. But is everything within these historically important sites limited to that day? Of course not!
The Pacific Aviation Museum, for example, is more than just a collection of Pearl Harbor-related aircraft. While it does feature a Japanese A6M Zero fighter and an American P-40, similar to planes that flew the morning of the attack, there's much more to this museum that makes it appealing to history buffs hoping for a more extensive look into the aerial fleets of not just World War II, but of many conflicts since then.
Exhibits of the Pacific Aviation Museum
Hangar 37
Hangar 37 is a piece of American history on its own; the former seaplane hangar was constructed prior to and survived through the attack on Pearl Harbor. Within the hangar, guests see many tributes to Pearl Harbor, including a diorama of an authentic Japanese Zero fighter aboard the Hiryu aircraft carrier. Additional craft include a civilian plane damaged during the attack along with a Curtiss P-40 fighter that would have been stationed at Wheeler and Haleiwa fields during the attack.
Hangar 79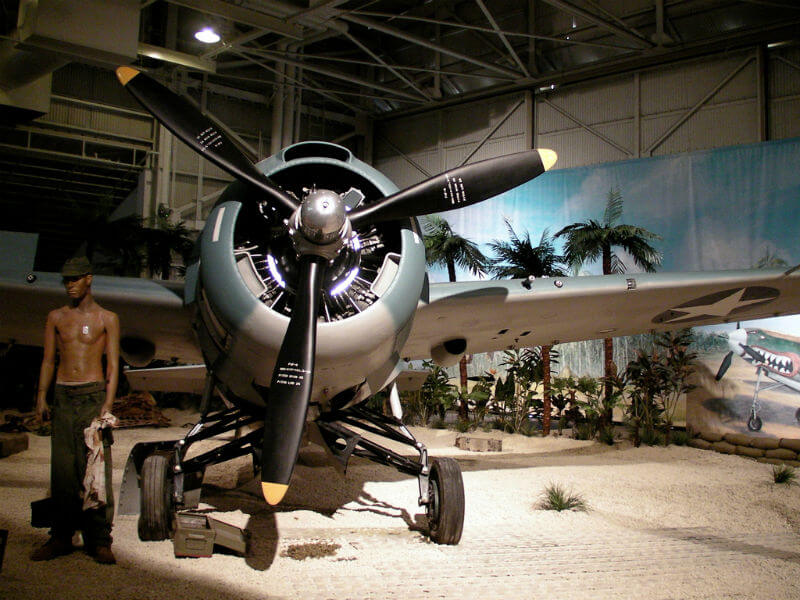 80,000-square-feet of space shows signs of battle as bullet holes are still visible around the hangar. Once an engine and repair facility, Hangar 79 offers more of a modern look into military aircraft taking to the skies. Where Hangar 37 is all about the history and historical craft that served in distant conflicts, Hangar 79 looks to more recent battles, featuring aircraft from the Korean War.
Combat Flight Simulators
Gear yourself up to feel what it's like to be behind the controls of the military's greatest planes. Pilot a Grumman F4F-3 Wildcat or travel back to the 1940s in the Pacific, flying an A6M Zero fighter, P-38 Lightning, Ki-61 Tony and many other aircraft. Engage the enemy if the skies of Guadalcanal or bring it in for a landing on an aircraft carrier of the Pacific Fleet to feel how these craft handle in mid-flight.
As you make your way through the two hangars that make up the Pacific Aviation Museum, you'll see fully restored aircraft like the Boeing N2S-3 Stearman, the North American B-25B Mitchell, the Douglas SBD Dauntless, Lockheed T-33 Shooting Star, and many more. You can also explore some deeper details of the torpedoes responsible for damaging and sinking multiple battleships at the December 7th, 1941 attack on Pearl Harbor.