Naval Devastation at Pearl Harbor
Historians have argued whether the attack on Pearl Harbor was a success or not. One thing is clear, to the men who were at Pearl Harbor on December 7th, 1941, it looked and felt like devastation at Pearl Harbor.
The goal of the Japanese was to cripple the US Pacific Fleet. Admiral Isoroku Yamamoto felt that if he struck a severe blow to the Pacific Fleet, the people of the US would lose their will to fight the Japanese and concede quickly. However, upon hearing of the devastation at Pearl Harbor, the American people wanted revenge.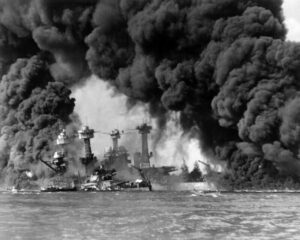 2403 men died during the sneak attack on Pearl Harbor. The USS Arizona, USS California, USS Oklahoma and USS West Virginia sunk.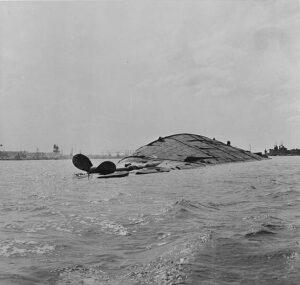 Despite the devastation at Pearl Harbor, most of the ships were repaired after the attack. However, the Arizona, Oklahoma, and the Utah were not. The Arizona is still sunk with her men on board. The USS Arizona Memorial is located above the sunken battleship.
The USS Utah is still sunk on the opposite side of Ford Island in the middle of Pearl Harbor.  58 men died when she was attacked.  The Oklahoma was eventually righted. She was sold for scrap to a California company, but on the trip to California, storms caused her to sink to the bottom of the pacific.
The battleships located on Battleship Row experienced the worst of the attack. The torpedo bombers proceeded the high level bombers. The location of the ships on battleship row determined their susceptibility to torpedoes. The ships fortunate enough to be moored inboard, did not sustain the extensive torpedo damage like Oklahoma and West Virginia.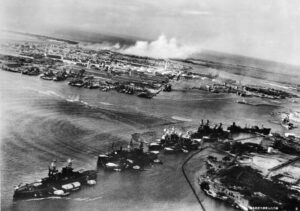 The Arizona was not hit by torpedoes, but was destroyed when an armor piercing bomb traveled through her decks and ignited her forward powder magazine. This caused an explosion that lifted this massive battleship out of the water.