Louis Zamperini: From Olympian to War Hero
During World War II, the United States military comprised the most dedicated and bravest men and women it needed to emerge victorious. Things looked grim, especially at the start of the American involvement in the war, spurred by the attack on Pearl Harbor on December 7th, 1941. But these brave servicemen stepped up and gave their all—and many of them their lives—in order to push back and defeat the oppressors in Europe and the Pacific.
Some men entered the war with an already well-developed competitor's spirit, like Louis Silvie Zamperini, who passed away in July of 2014, leaving behind an impressive legacy that any family would be proud to retell.
Zamperini's role in World War II was likely not one he wanted to remember, but his fascinating story actually began five years before Japan flew into Pearl Harbor and launched its two-hour campaign against the United States naval base.
Before the War - Racing
In 1936, 19-year-old Zamperini tried out for the Berlin Olympics. After being denied a spot on the 1,500-meter team, Zamperini tried out for the 5,000-meters. It was in the midst of the deadly 1936 heat wave, but the extreme temperatures didn't stop the persistent young racer. Zamperini ended the qualifier in a tie with Don Lash, at the time the American record-holder. His victory secured him a spot at the 1936 Summer Olympics and earned him praise as the youngest American qualifier of the 5,000 meter race.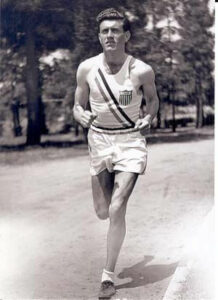 During the Olympics, Zamperini wasn't a favorite to win the 5,000-meter race and, as expected, he came in eighth.
Fast forward to 1941, when Louis Zamperini earned the rank of Lieutenant in the United States Army Air Force and started his campaign in the Pacific on a B-24 Liberator.
Lost At Sea
Not long into his service, Lt. Zamperini's plane crashed into the Pacific and, for 46 days, he was adrift at sea. During this time, he survived on the same fighter's spirit that got him to the Olympics, but his tribulations had just begun. After landing in the Marshall Islands—which were occupied by Japanese forces—the former Olympian was taken into a Japanese POW camp.
Until the end of the war, Zamperini and fellow crash survivor Russell Allen Phillips remained in a succession of Japanese camps, undergoing torture and beatings. Though such an event could break a man's spirit forever, the Olympian stayed strong. Upon returning to the United States, he began suffering from nightmares and developed a drinking problem. Finally finding some solace in religion, Zamperini became a Christian evangelist.
Louis Zamperini displayed incredible strength, both in the Olympics and during the war and its aftermath. He passed away at the age of 97 from pneumonia.