Legacy of the USS Tennessee
Many US Navy vessels were present during the attack on Pearl Harbor, but it was the battleships that bore the brunt of the surprise attack. Among the mighty vessels moored within the harbor, lined up perfectly for Japanese bombers to target them, was the USS Tennessee (BB-43). While not as widely recognized as the USS Arizona, the Tennessee's survival during the attack on Pearl Harbor proved paramount to the success of the United States Navy during World War II.
The Life of the Tennessee
Launched in April of 1919, the Tennessee had a rough start when, in 1920 during trial runs, a generator exploded and destroyed a turbine. The ship returned to service in 1921 and was stationed at San Pedro, CA for 19 years. By 1940, the Tennessee received an overhaul and was moved to Pearl Harbor, where she would be moored at Battleship Row at the time of the Japanese surprise attack in December of 1941.
The Attack
As the Japanese swooped in on the row of battleships in the harbor, the crew of the Tennessee jumped behind the antiaircraft guns onboard and mounted the best defense they were capable of. In the attack, the battleship was struck by two armor-piercing bombs, neither of which detonated completely.
Vessels around the Tennessee sustained heavy damage, and she was essentially trapped by the USS West Virginia. The Tennessee, which suffered five crew deaths, was able to return to service in February of 1942. When she reentered the war, she did so in full force, joining the aircraft carrier USS Hornet on her journey to support the invasion of Guadalcanal.
After the Attack
By mid-1943, the Tennessee was given a new destination: Alaska, where she would work to support the Aleutian Islands campaign. As Japan's Navy wasn't involved, the Tennessee fired on ground forces until the Aleutian Islands were back in American hands.
With much still left to do, after a period of training, the Tennessee and her crew were moved to Betio to participate in the Battle of Tarawa and, in 1944, was ordered to assist in the Marshall Islands, where she continued ground-force bombardment.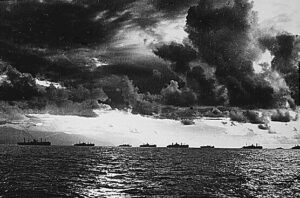 US armada moving towards Leyte Island
One of the ship's most notable engagements came in October of 1944, when she was added to the naval force that took part in the Battle of Leyte Gulf. Considered one of the largest naval battles in history, The Tennessee—alongside other battleships including fellow Pearl Harbor survivors the West Virginia, Pennsylvania, California, and Maryland—succeeded in routing the Japanese, securing an Allied victory in the Philippines.
The End of the Tennessee
Having survived multiple battles against the Japanese, and one of the most devastating attacks on American territory, the Tennessee was finally delisted from the Naval Vessel Register on March 1st, 1959.
After a lengthy and illustrious service, the final fate of the Tennessee was to be sold as scrap to the Bethlehem Steel Company.