How Was the USS Arizona Memorial Paid For?
Have you ever wondered where the money comes from to finance the memorials commemorating events like the attack on Pearl Harbor? The USS Arizona Memorial has been the centerpiece of Pearl Harbor tours for more than 50 years, having been dedicated on May 30, 1962. A primary target during the December 7, 1941 Japanese attack on Pearl Harbor, the USS Arizona (BB-39) still sits at the bottom of the harbor, the final resting place for over a thousand men who were killed in an instant when the mighty battleship exploded and sank after a bomb pierced her forward powder magazine.
Where Did the Money Come From?
The construction of the USS Arizona Memorial, which today is a part of the World War II Valor in the Pacific National Monument, took not only many hands, but also the financial contributions from several notable sources. Among them was Elvis Presley, who donated his time and talents for a benefit concert in March of 1961. Though the King's concert brought in over $64,000 it was just one part of an effort to ensure the memorial was built, and represented only a fraction of its total cost.
When President Dwight D. Eisenhower approved the creation of the memorial in 1958, the estimated budget to build it was $500,000. Although the federal government required the monument to be privately funded, it did grant $200,000 in subsidies. Thankfully, Eisenhower, Elvis, and those who attended the benefit concert weren't the only ones who thought it was important to construct a memorial to the terrible tragedy of December 7, 1941.
One Monument – Many Donors
In 1958, after construction of the memorial was approved, the Territory of Hawaii—which was still a year away from statehood—contributed $50,000. That same year, $95,000 was raised following the appearance of Medal of Honor recipient and USS Arizona survivor Rear Admiral Samuel G. Fuqua on the reality-documentary series This is Your Life, a popular weekly program that was then in its 10th year on air.
Following Presley's highly-publicized and very successful concert fundraiser, additional contributions came in. The Revell Model Company and the Fleet Reserve Association came together for a partnership selling plastic models of the USS Arizona, raising an additional $40,000. Later in 1961, Hawaii Senator Daniel Inouye got legislation passed to secure another $150,000 in federal funds.
Ongoing Upkeep of the Memorial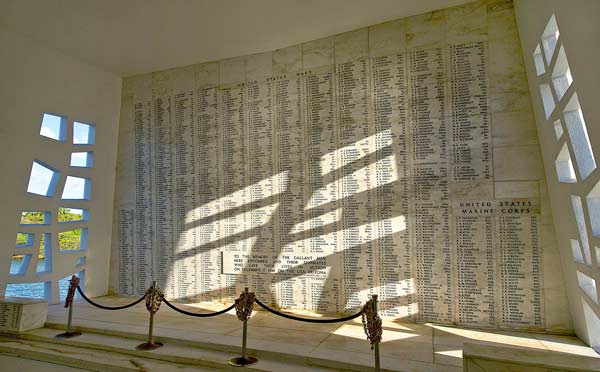 Behind much of the fundraising was AMVETS, a veterans service organization that helped to secure around $250,000 in total for the memorial during the 1950s. The organization is responsible for the upkeep of the white marble wall inscribed with the names of the men who perished aboard the USS Arizona. In 1983, and again in 2014, AMVETS raised the funds needed to replace the deteriorating Wall of Remembrance.