History of Oahu
To most people the attack on Pearl Harbor was the most important event in the History of Oahu.  However, there have been numerous important events in the history of Oahu.
Captain Cook's Rediscovery of the Hawaiian Islands
In 1778 Captain cook sailed right past Oahu. He did not land on the island of Oahu, but instead continued to the island of Ni'ihau. Cook's rediscovery of Hawaii can be referred to as Columbusing, which is a term for claiming to discover something that had already been discovered.
The Battle of Nuuanu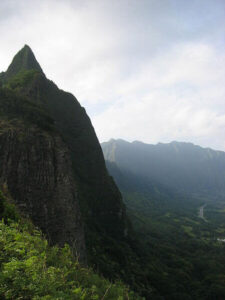 Kamehameha the Great was so named because he united the islands into one kingdom. To do so he had to win hard fought battles.  One of those battles was called the Battle of Nu'uanu. Nu'uanu is a valley in the middle of Oahu directly towards the mountains from Honolulu Harbor. At the top of the valley is a pali or cliff with a beautiful view.
In February 1795 King Kamehameha the Great assembled the largest army Hawaii had ever seen. Approximately 12,000 men landed 1,200 canoes near Waikiki. They were invading Oahu to defeat Kalanikapule.  Kamehameha's men fought one Battle at Punchbowl Crater at the bottom of Nu'uanu Valley.  Then continued further up the valley eventually reaching the cliffs.
Fighting was fierce and in those days they did not take prisoners of war. It was estimated that over 800 warriors were either pushed from the cliffs or jumped.
Honolulu became the Capital of Hawaii
In 1845, Kamehameha III moved the capital of Hawaii from Maui to Oahu. He chose downtown Honolulu. The reason that Honolulu made a great capital is the deep, natural Honolulu Harbor.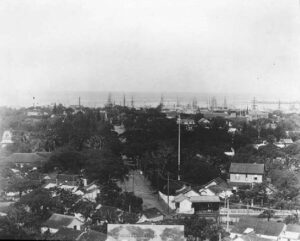 Honolulu is also the name of the county that makes up the entire island of Oahu.  When Hawaii became a state in 1959, Honolulu remained the capital and the State Capitol building was built downtown.
More History of Oahu
Truly the best way to learn any history is to see it firsthand. This can be done best on a Pearl Harbor Combo Tour.  You can choose to tour the island and see the Nuuanu Pali or go on a Honolulu City Tour and see the State Capitol and Honolulu Harbor.