Getting to Know the Late "Uncle Herb" Weatherwax
Herb Weatherwax was born on June 3rd, 1917. Almost 24 years later, the native Hawaiian was drafted into the Army and found himself stationed at Schofield Barracks in Wahiawa. The young soldier was enjoying a weekend leave in Honolulu on December 7th, 1941. While enjoying his time off-base, he could hear explosions at nearby Pearl Harbor. Unaware of what was happening, Herb was recalled to service shortly after the attack and found himself thrust into preparations for a possible invasion of the Hawaiian Islands.
In transit to his station, Herb had a view of the harbor and the destruction. Images of the destruction of the USS Arizona and the USS Oklahoma, burning water, and desperate servicemen were burned into his brain.
The young soldier was moved from his home state in 1944 to Camp Shelby in Mississippi as he joined the 272nd Infantry Regiment, 69th Division. Shortly after, his division transferred to assist in the Allied efforts in the European Theater. Herb's service in the war took him to Eifel Forest in Belgium and a small town in Germany called Torgau, where his division joined with Russian forces. Not long after, the war in Europe was over and so, too, was Herb's part in World War II. Though the Japanese didn't invade the Islands and Herb wasn't directly involved in the Pearl Harbor attack, the significance  of the event to him and others affected was enormous.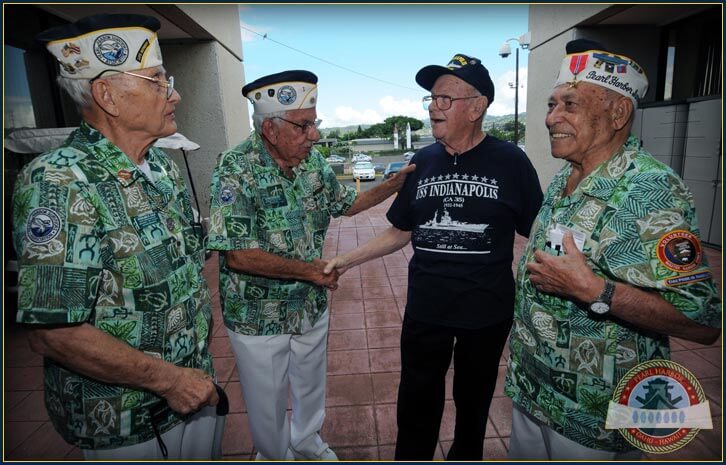 Life After the War
On June 3rd, 2016, Herb Weatherwax—known locally as "Uncle Herb"—celebrated his 99th birthday at the World War II Valor in the Pacific National Monument, surrounded by family and the many friends he attracted over the years. Uncle Herb returned to Hawaii after his time in the war and retirement from military service and volunteered with the National Park Service, serving at Oahu's Pearl Harbor memorial as a way of paying tribute to the soldiers and friends he fought alongside and lost during World War II.
Uncle Herb became a sort of exhibit on his own, retelling his own war stories and recounting the events of Pearl Harbor to visitors. His volunteer service continued for many years and he retold his stories many, many times.
On December 12th, 2016, just days after the Pearl Harbor attack's 75th anniversary, he passed away "with dignity and grace," according to his daughter, Carrie Weatherwax. Though gone, Herb lives on through the tales he shared, the people he met, and through the exhibits available at the World War II Valor in the Pacific National Monument.
To explore the history of Pearl Harbor and hear the stories of World War II soldiers like Herb Weatherwax, visit Oahu's Pearl Harbor memorials, Pacific Aviation Museum, and the Punchbowl National Cemetery.