George Murray Turns 100
On March 31, 2019, George Murray, a survivor of the attack on Pearl Harbor, celebrated his 100th birthday surrounded by his wife of 72 years, four daughters, 10 grandchildren, and other relatives for a private celebration of the milestone.
The Fort Worth resident was 22 years old when he was thrust into the chaos of Pearl Harbor. Prior to that, when he was just 17 his parents agreed to let him join the Civilian Conservation Corps. As part of the corps, he left behind his home in Massachusetts and traveled the United States to take part in public works projects, which included bridge and road maintenance.
George Murray Joins the Army
Three years after joining the Civilian Conservation Corps, George Murray enlisted in the Army as part of the Chemical Warfare Service.
His service had him stationed at Schofield Barracks in central Oahu. After serving there for two uninterrupted years, Murray began what was intended to be a seven-day leave on December 5, 1941. In the middle of his second day of relaxation, he heard news of the attack over the radio.
Having been about ten miles away, enjoying being a tourist on Oahu, Murray traveled for over an hour and a half—using various forms of transportation—to return to his post. When he arrived, he found his unit unharmed, although a bomb had fallen not far from the barracks.
After the attack on Pearl Harbor, Murray and his company remained in Hawaii, taking on a variety of duties, including providing civilians living and working around military facilities with gas masks and training on how to use them. In the wake of the surprise attack, Oahu was in full preparation mode for another assault that, thankfully, never came.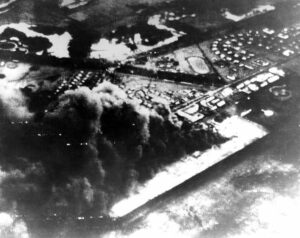 After Pearl Harbor
In 1942, George Murray left Hawaii and returned to the US mainland for Officer Candidate School and, within a year, was sent to England where he performed clerical duties including censoring mail. A year later, he was sent to France and was assigned to the 86th Chemical Mortar Battalion. From France, he was sent to the border of Belgium and Germany, where he took part in the Battle of Elsenborn Ridge.
When the war ended, Murray reverted to Enlisted status and rose to the rank of sergeant major in 1959. When he finally left the service, he became part of the local chapter of the Pearl Harbor Survivors Association, the Veterans of the Battle of the Bulge, and the 86th Chemical Mortar Battalion Association. He was also inducted into the US Army Chemical Corps Hall of Fame.