Frank Emond - Still Serving After 75 Years
Many of the men and women who survived Pearl Harbor—and World War II in general—never really concluded their service. They may have retired, been honorably discharged, and never worked on a military installation again, but a good number of them went right on serving their country in one way or another. This is the story of one of them, Frank Emond.
Over 75 years since the attack on Pearl Harbor, Emond, a 99-year-old veteran residing in Pensacola, FL, is refusing to let go of his duty to his nation.
Francis "Frank" Emond joined the US Navy in 1938, leaving his home in Rhode Island to serve as a musician. His life was changed when, in the summer of 1941, a change in assignment stationed him aboard the USS Pennsylvania.
Representing the Pennsylvania with his new bandmates, Frank Emond played at a band contest on December 6th, 1941. Against the bands from the USS California and Arizona, Emond and his fellow-musicians won the contest, earning the prize money that all had been playing for. It was a late night for Emond and his band, but the French horn player rose early the next morning, ready to start his day just as he had many mornings before.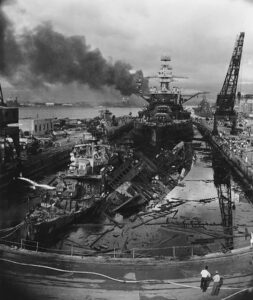 As the morning sun washed over Pearl Harbor on December 7th, only months after he was reassigned to the Pennsylvania, Frank Emond was ready for the raising of the American flag when the ceremony was interrupted by an unexpected sight in the sky. Hundreds of Japanese aircraft were swooping in, dropping bombs and riddling the harbor's battleships with machine gun fire.
Berthed in dry dock, the Pennsylvania was separated from the other vessels in the Battleship Row, but that didn't exempt her from enemy fire. One bomb struck the vessel, killing 15 and launching men like Frank Emond into a rescue operation, pulling the injured from the water.
Frank Emond survived World War II and the attack on Pearl Harbor and even today continues to serve his nation by volunteering at the naval hospital in Pensacola. He's not a man who outwardly wears his status as a Pearl Harbor survivor, instead preferring to ensure the focus remains on the injured and sick who come into the hospital. According to the former sailor and naval musician, time is one of the easiest gifts to give, an important one that could change the outcome of somebody's day or maybe even their life.
The aging sailor once put his life on the line to protect his country. Now he steps up to help those who took up the mantle of the country's bravest.