Ford Island Hawaii
Ford Island is an islet located in the middle of Pearl Harbor. It is 441 acres (178 hectares).  The ownership of Ford Island changed hands a few times before becoming property of the US Navy.
History of Ford Island
Hawaiians called Ford Island Mokuʻumeʻume, which means "isle of attraction".  It was called this because the single Hawaiians would play a game called 'ume which involved swapping sexual partners with the aim of impregnating childless women.
The name changed to Marin's island after the King gifted it to his botanist Mr. Marin. Then in 1966 it fell under the ownership of Dr. Seth Ford. The name Ford Island stuck. After Dr. Ford's death, the island became a sugarcane plantation.
The United States took possession of Pearl Harbor, but allowed the sugarcane production on Ford Island to continue. In 1916 the United States purchased Ford Island to establish an air field.  The army airfield became full of planes and it was decided that the air base would be moved across the harbor to Hickam. At that point Ford Island became entirely the property of the Navy.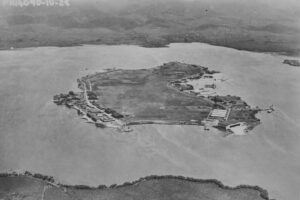 Ford Island Today
Ford Island continues to operate today as a military installation.  However, it is also home to historical museums and memorials.  The Pacific Aviation Museum is located on Luke airfield in the middle of the island. The USS Missouri is moored on the historic Battleship Row.  The Oklahoma Memorial is by the entrance to the Battleship Missouri Memorial.
The officer's homes from John Wayne's film In Harms Way are still on the island and can be seen on tours after you cross the Clarey Bridge.
Visiting Ford Island
Before the Admiral Clarey Bridge was completed in 1998, those who wished to visit Ford Island could do so only by ferryboat.  Now the island can be accessed by the bridge. However, you must either possess proper security clearance or travel on authorized transportation.  All of our tours are on Navy Authorized transportation.