Experiencing Pearl Harbor Without Seeing It
When we think of the December 7, 1941 attack on Pearl Harbor,we usually picture sailors scrambling on the decks to abandon ship or take up arms to fight back against the incoming Japanese bombers and fighters. It's difficult to imagine experiencing Pearl Harbor without seeing it unfold. However, not every sailor witnessed the devastation as it was happening all around. Many, like Orville Montgomery, a sailor aboard USS Maryland (BB-46), were below deck when the first signs of the attack erupted outside.
For the entire duration of the attack, Montgomery would remain below decks, unaware of the magnitude of the damage being done across Pearl Harbor. The USS Maryland sailor had just finished breakfast when the first explosions shook the huge battleship. Maryland hadn't been hit; the torpedoes had struck USS Oklahoma (BB-37), anchored alongside. The rocking of his ship would be all of the attack that Montgomery would experience firsthand that morning.
As Maryland shuddered from the force of the explosions aboard Oklahoma, Montgomery rushed to his post. As part of the damage control station crew, which worked well below Maryland's waterline, Montgomery was forced to listen to the muffled sounds of the attack while having no view of the devastating Japanese assault. Essentially, he and his crew mates were blind to the attack unfolding outside.
Deep in the belly of his ship, he remained at his post for another three hours, each second that passed more agonizing than the one before. Being so far below decks, had Maryland been struck a fatal blow, there was little chance that Montgomery and his fellow crewmen would have been able to escape.
It's difficult to imagine being a part of something so historic and tragic while also having no visual memory of it. Visitors to Pearl Harbor can experience being deep inside a World War II-era battleship when they tour the Battleship Missouri. Being in the belly of the Mighty Mo gives a feel for how isolated it feels from the world outside.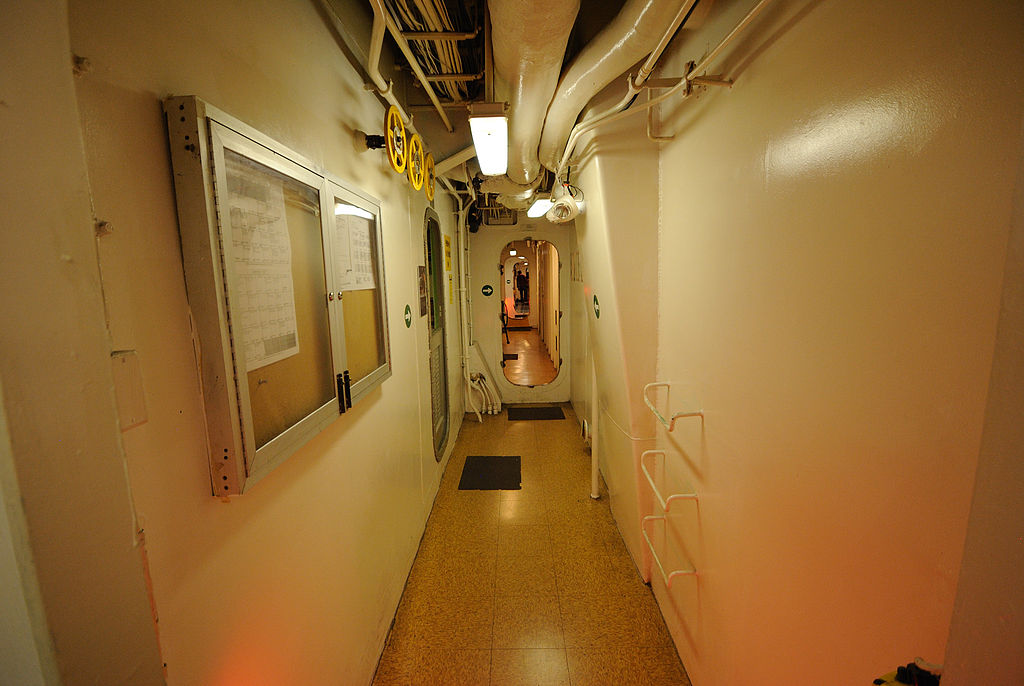 Maryland was hit by two bombs and lost two officers and two crew, but neither strike was strong enough to sink the battleship.
At approximately 11:00 AM, Montgomery was relieved from duty and given the chance to go topside. He finally saw the devastation that had been done by each blast that he had felt shaking USS Maryland. As Montgomery put it, the oil-slicked waters, the sunken USS Arizona (BB-39), the capsized USS Oklahoma, it was all "a sight you don't forget."