Declarations of War After Pearl Harbor
Prior to the devastating attack on Pearl Harbor on December 7, 1941, the battlegrounds of World War II were clear. Nazi Germany and Fascist Italy were the main aggressors in the European Theater, fighting against the armies of the United Kingdom—and the British Commonwealth—the Soviet Union, and the Free French Army, with other nations providing support.
War in the Pacific
After Japan forced the United States into open conflict on December 7, by attacking not just the Pearl Harbor naval installation but also the US protectorate of the Philippines and the British colony of Malaya, the war grew more complex. Suddenly, the Pacific Theater had to be taken into consideration.
Looking at the run-up to US participation in World War II, there seemed to be no question as to the threat posed by Japan. Interestingly, though the United States suffered the most casualties and damage from Japan's multiple attacks on December 7 (December 8 in Japan and east Asia), the American government wasn't the first to declare war on the Japanese Empire. Even before President Roosevelt convinced Congress to approve a declaration of war, both Britain and Canada had declared war on the Imperial nation on December 7, 1941.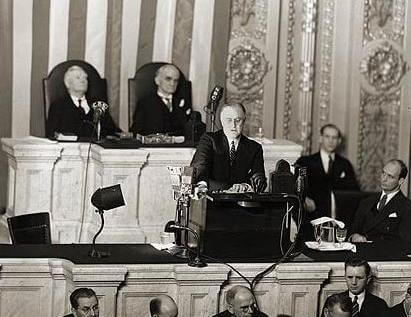 After Roosevelt's impassioned "Infamy" speech on December 8, the United States declared war on the Empire of Japan after a nearly-unanimous congressional vote. Following the United States, other war declarations were issued, including from Costa Rica, the Dominican Republic, the Netherlands, the Union of South Africa, Panama, and Cuba, all of which were against Japan. By the end of December 9th, China had declared war on Germany, Italy, and Japan.
The World at War
The Pearl Harbor attack created a domino effect of aggression around the globe, with much of the initial response fittingly directed towards Japan. By December 11, in response to Germany and Italy declaring war against the United States, nations that had been neutral, including Costa Rica, Guatemala, Cuba, Nicaragua, and the Dominican Republic had entered the war in Europe. By the end of the 13th of December, most of the world found itself engaged in World War II.