Barbers Point Lighthouse December 7, 1941
A lot happened on the island of Oahu during the morning of December 7, 1941. Though the devastation at Pearl Harbor and airfields all across Oahu are what's most remembered about that day due to the sheer number of casualties and amount of damage done, there were other stories that tend to get overshadowed by the tragedy of 2,403 American deaths. One of these is a strange encounter that unfolded southwest of Pearl Harbor, at the Barbers Point Lighthouse
Overlooking the waters of the Pacific Ocean at the southwest tip of the island of Oahu stands the Barbers Point Lighthouse, a structure that's survived 130 years. First constructed in 1888, the lighthouse has provided a light beacon for incoming ships sailing into Oahu at night. On the morning of December 7, 1941, the lighthouse and the nearby Marine Corps Air Station came under attack. Japanese aircraft strafed the area, pelting the ground with bullets. With each sweep, the grounds surrounding the lighthouse were shredded by machine gun fire.
At the lighthouse was keeper John M. Sweeney. Thanks to his decision to write down the events of that day, the events that unfolded at the lighthouse weren't lost amid the tragic events that unfolded around Oahu that day.
The Barbers Point Lighthouse Incident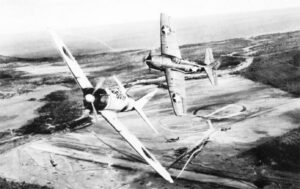 According to Sweeney's account of the events of that morning, from the lighthouse it was impossible to miss the incoming Japanese attack. According to Sweeney, at about 0800, he watched as planes belonging to both Japan and the United States flew over Oahu. After a lengthy dog fight, the Japanese broke south, with the American craft in pursuit.
In the midst of the chaos, Sweeney observed two parachutes dropping near Barbers Point. Surviving their decent, the two Japanese airmen were lost in the foliage of the island. Well into the evening hours of December 7, the two Japanese pilots scrambled around the base, avoiding rifle and machine gun fire from the 55th Coastal Artillery.
With no means of escape and persistent American soldiers pursuing them, it wasn't long before one of them was hit. After being wounded by incoming fire, one of the pilots died and was buried on a nearby beach by his comrade. The search for the surviving pilot went into Monday night before an officer of the 55th tracked him down and shot and killed him.
From the moment the Japanese pilots landed to the firing of that fatal bullet, the American servicemen stationed near the Barbers Point Lighthouse were extremely cautious and, according to Sweeney, very nervous. At one point, a reflected green light atop the tower was thought to have been one of the pilots. The men of the 55th also warned him to remain inside his house, as they would fire on anyone they couldn't immediately identify as an ally.