After the Attack: Rebuilding Pearl Harbor
When the attack on Pearl Harbor ended, two hours after it was launched at 0755 on December 7th, 1941, the Japanese strike force left behind a nightmare scene of destroyed battleships, damaged infrastructure, and over 2,400 Americans dead. Plumes of smoke from fires blazing across the oil-slicked waters were visible from many parts of Honolulu.
The assault on the Oahu naval base was tragic, but the United States isn't a nation known for sitting back and licking its wounds. Even while bombs were still falling on the harbor, sailors were rushing into the water to rescue those who had abandoned their sinking ships.
The relief efforts began immediately, but rebuilding Pearl Harbor would take some time. While the greatest damages were to the battleships stationed at the base, they weren't the only targets. Airfields, which still show signs of the attack today, were a major target for the Japanese, who wanted to keep American pilots grounded. Nearby residential areas came under fire from machine guns and bombs that missed their targets.
Rebuilding Pearl Harbor
While we often focus on the destruction done to the harbor and the effects of the attack on history, we often gloss over those who did the work of bringing Pearl Harbor back to life. People like Erdworth Ventula who, at only 17 years old, had been working at the Pearl Harbor shipyard for only a month when the Japanese dropped their cache of torpedoes and bombs.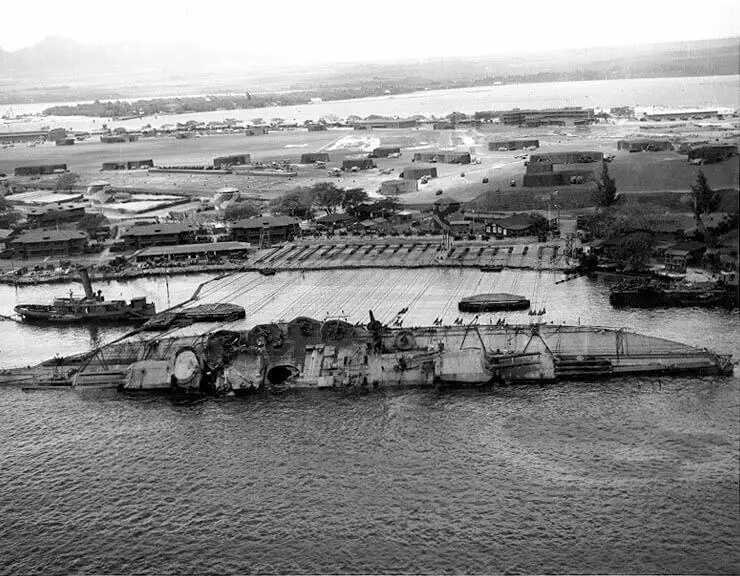 The young worker was present during the attack and recalls the details of that day vividly. He also remembers the efforts that went into restoring the base immediately after the attack, as the rest of the nation prepared to go to war. Back in Pearl Harbor, men like Ventula worked around the clock to help in the efforts to repair the damaged vessels. For weeks, Pearl Harbor was the scene of cooperation of every able body available, working together to repair the damaged battleships and other vessels.
Despite the extensive damage that was done to the naval base and the fleet, within months, the first of the battleships was returned to service. The efforts of Ventula and his fellow shipyard workers assisted in the swift recovery of the US Navy, which wasted no time in preparing itself for the coming battles in the Pacific.
At noon on December 7th, 1941, the Pearl Harbor naval base was the site of devastating wreckage and raging fires. Within months, signs of the attack had diminished and the base returned to being fully functional, thanks to the tenacity of men like Erdworth Ventula.