USS Arizona Memorial Shuttle Boats
The USS Arizona Memorial is a monument built over the sunken battleship USS Arizona. The only way to get there is on the US Navy-operated USS Arizona Memorial shuttle boats.
The boats have a capacity of 150 passengers. Tour guides are not permitted to provide narration on the shuttle boats or at the USS Arizona Memorial. If you would like information while you're in these locations, you may want to consider renting the audio tour at the Pearl Harbor Visitor Center.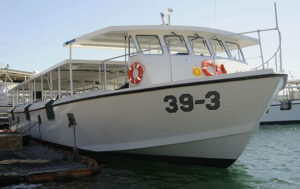 As you ride the boat to the USS Arizona Memorial you will see the mooring for the USS Vestal. Many people do not know about the Vestal, but it was the ship moored next to the Arizona during the attack. It sustained collateral damage as a result of being in this location.
On the opposite side of the Vestal's mooring is the Battleship Missouri. The Missouri is docked at Ford Island.
In 2009, the USS Arizona Memorial shuttle boats completely converted to bio-diesel fuel. The fuel is produced in Hawaii at Pacific Biodiesel, one of the first bio-diesel plants in the US.
The United States Navy plans to introduce renewable energy to at least half of their entire fleet by 2020. In addition to this goal, the Navy also hopes to be using renewable energy for 50% of shore-based operations within the next decade.
In 2011, the Defense Logistics Agency made an agreement to purchase nearly half a million gallons of bio-fuel. This was the single largest purchase of bio-fuels to date in government history. The US Government continues to push for greater use of renewable energy and bio-fuels. The USS Arizona Memorial shuttle boats are an important high-profile step in this push.
Riding the USS Arizona Memorial Shuttle Boat
The shuttle boats have restrictions regarding conditions in which they may operate. Occasionally, the winds are too strong for the boats to take passengers safely to the Memorial. This rarely happens, but when it does it is more often in the afternoon than in the morning.
Seasickness is not common on these boats as the harbor is generally calm and the boat is stable. The trip from the Visitor Center to the USS Arizona Memorial is only a few minutes and is an enjoyable ride.