75 Years of History in One Place
American history can be observed and experienced all across the United States. From the museums in Washington DC to the Old West landmarks along Route 66, you're never too far from a historic journey through time. One such spot is the World War II Valor in the Pacific National Monument at Pearl Harbor, memorializing the surprise attack launched by the Japanese on December 7th, 1941 and the 75 years of history that have unfolded since. Though the attack was isolated to the island of Oahu—mostly to Pearl Harbor and nearby military installations—the events of that Sunday morning were felt throughout the entirety of the nation.
The attack on Pearl Harbor is the culminating event that led to American involvement in World War II, and though the war ended many years ago, that day in December is still a significant part of American history with effects that can still be felt today.
Within this National Monument lie 75 years of history, almost a century of details that explain why the United States is no longer a nation set on isolationism and why the fear of another homeland attack is still felt in modern times.
The Pearl Harbor Memorials
We can talk about the effects the attack on Pearl Harbor had on the United States, though it's far more efficient to see them, and within the monument, there's plenty to show how the attack shaped the United States we know today.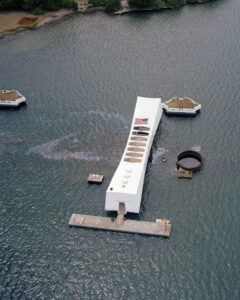 The USS Arizona Memorial pays tribute to the 1,177 men who perished as the battleship sank to the bottom of the harbor. Guests at the memorial stand above the wreckage of the mighty ship and observe as droplets of oil still spill from the damaged hull, as if the ship were crying for her lost sailors.
More in-depth looks at the attack itself can be seen at the "Road to War" and "Attack!" exhibits within the Pearl Harbor Visitor Center. From the days leading up to the attack to the hours after, these galleries piece together the history of the Japanese assault, complete with exclusive footage of the destruction.
Travelers to the memorials and exhibits see a side of Pearl Harbor that isn't adequately described in textbooks, and can then connect many changes within the United States to this one devastating day in history.
Exploring Pearl Harbor
Along with the USS Arizona Memorial and the exhibits in the Pearl Harbor Visitor Center, guests also have access to the Battleship Missouri, the vessel upon which Japan's surrender was signed, and the Bowfin submarine, which was launched one year after the attack as the "Pearl Harbor Avenger."
The World War II Valor in the Pacific National Monument is the most complete collection of Pearl Harbor exhibits, artifacts, and relics detailing the historic event that altered the United States for the next 75 years and beyond.