The Flag of the Nagato
After World War II ended with the unconditional Japanese surrender, many of Japan's ships were confiscated by the United States, their roles shifted from vessels of war to harmless ships used as targets for various US military exercises. The Japanese battleship Nagato survived World War II—despite being a target of the American campaign to eradicate the remaining capital ships of the Imperial Japanese Navy in mid-1945—but her fate eventually did find her at the bottom of the ocean.
After the war, the Nagato was converted into a target ship and was used in Operation Crossroads, a series of nuclear tests that took place at Bikini Atoll in mid-1946. Though the former battleship survived the first bomb test, an underwater explosion that caused a tsunami was ultimately responsible for her capsizing and sinking.
While one would think the story of the Nagato would end there, her name came to the surface again in 2016 when the National Park Service received an unusual donation that many assumed was lost to the depths of the Pacific.
The Flag of the Nagato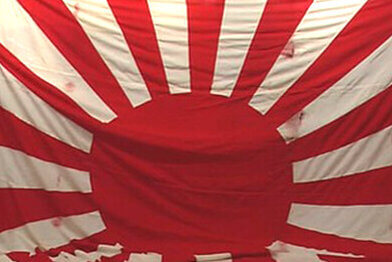 Though the Nagato suffered the same fate as many other Japanese capital ships, a piece of her remained on the surface, in the hands of American sailor Robert Hartman Sr, a naval cook who served aboard the USS Horace A. Bass.
While the war was still raging, Hartman came into possession of the flag of the Nagato, the flagship of Admiral Isoroku Yamamoto during the attack on Pearl Harbor. As a symbol of remembrance of the devastating attack on December 7th, 1941, and since it was so heavily connected to the naval base in Oahu, Hartman's family saw only one option for it in the years after his passing.
After her father passed away, Dianne Hall received the flag from her mother as a memento to remember her father by. Along with her siblings Betty Jo Eller, Sherry Bryant, Robert Hartman Jr., and Wanda Morris, Hall used the iconic flag as a blanket when they were children, never understanding the significance the stitching to the United States and World War II.
As adults, Hall and her siblings became aware of the importance of the Nagato flag and opted to donate the flag. The most logical place to donate it to was the location that the Nagato's commander, Yamamoto, aimed to destroy over 75 years ago.
Hall handed the flag off to the National Park Service and Pearl Harbor Visitor Center where it joined a vast collection of Pearl Harbor and World War II memorabilia contained in exhibits bursting with information and details about the attack and the war.