The Story of the USS Helm
On May 27th, 1937, the USS Helm (DD-388) was launched at the Norfolk Navy Yard, sponsored by the widow of Rear Admiral James Meredith Helm. Five months later, the Bagley-class destroyer was commissioned into the US Navy under Lt. Comdr. P. H. Talbot. Once prepped and ready for travel, the Helm was ordered to the Caribbean, where she operated until March of 1938. She joined Carrier Division 2 for exercises in early 1939, and was then transferred to the West Coast in May of that year.
As war approached for the United States, and Europe was thrust into a large-scale conflict, the Helm took part in fleet exercises and screening maneuvers. She moved between San Diego and Hawaii, eventually finding herself stationed at Pearl Harbor in Oahu. As the first bombs were falling on the American battleships, the Helm had just moved into West Loch in Pearl Harbor routine maintenance work on buoys there. Her work was cut short as explosions racked the harbor and Japanese planes screamed overhead.
It's believed that the crew of the USS Helm were responsible for taking down two Japanese aircraft, but her real contribution that morning was the attack on a Japanese midget submarine that had become stuck at the entrance to the harbor. Ultimately, the two pilots of the sub suffered different fates: one drowned while trying to escape and the other was taken alive, becoming the first prisoner of war captured by the US in World War II.
After the Smoke Cleared
With the war underway for the US, the Helm was assigned to the task group of the USS Saratoga (CV-3) aircraft carrier. On January 20th, 1942, she embarked on a mission to aid Department of the Interior workers who were stuck on remote islands. Just after rescuing the workers, a Japanese plane happened upon her and opened fire. After driving off her attackers, she returned safely to Pearl Harbor.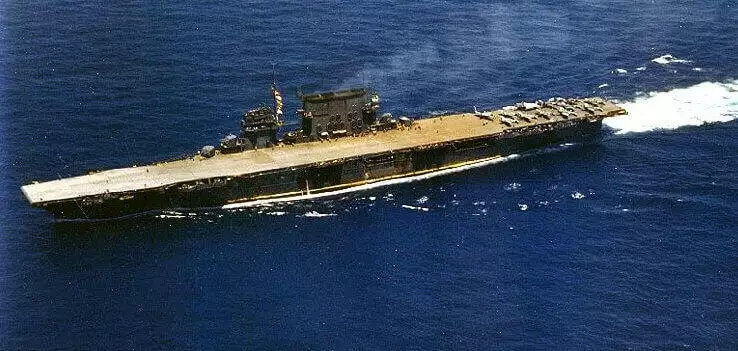 The Helm spent much of her World War II service escorting other vessels and supplies, originally in the waters near Australia. She continued on these patrols until February of 1944, when she returned to Pearl Harbor to rendezvous with the USS Maryland for another escort mission. During the Marianas invasions, the Helm was part of Task Force 58.
Her crew eventually found themselves, like much of the Pacific Fleet, taking part in the Battles of Iwo Jima and Okinawa.
In early August of 1945, she took part in the search for survivors from the sunken USS Indianapolis.
On June 26th, 1946, the USS Helm was decommissioned and in October 1947, was sold for scrap to the Moore Dry Dock Company in Oakland, CA.