Pearl Harbor Maps - Attack Maps & Island Maps
Below is a collection of Pearl Harbor Maps including maps of the attack on Pearl Harbor and locations of the ships at Pearl Harbor on December 7th, 1941.
Map of the Pacific
 
On the map above you can see Pearl Harbor's location in the middle of the Pacific. This strategic location is why FDR moved the Pacific Fleet to Pearl Harbor in 1940 and why the Japanese chose to attack in 1941.
 Pearl Harbor Maps of Japanese Route
 
Above is a map of the Japanese objectives at the beginning of WWII courtesy of the United States Military Academy, Department of History.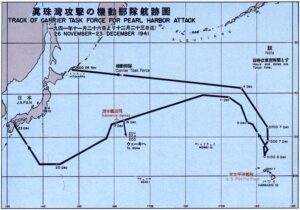 The above Map shows the route that Vice Admiral Chuichi Nagumo used to lead the Japanese Carrier force Kido Butai to attack Pearl Harbor undetected.
Pearl Harbor Attack Map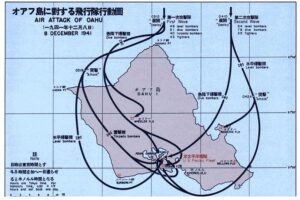 This Map shows the island of Oahu and the routes that the Japanese planes took on their attack on December 7th. Note that the maps says December 8, 1941, because that was the date in Japan at the time of the attack. The Japanese forces did not adjust their time when travelling to Hawaii.
More Pearl Harbor Maps?
Do you want to see Pearl Harbor maps that are not listed here. Please contact us and we will search for additional maps to include on our Pearl Harbor Maps page.