The Mighty Mo: The American Symbol of Victory
When you visit the World War II Valor in the Pacific National Monument, you'll be able to walk within and aboard the Battleship Missouri (BB-63), affectionately known as the "Mighty Mo." Those who know their history may raise an eyebrow at the presence of the Mighty Mo at Pearl Harbor. Launched in 1944, the Missouri obviously wasn't present at the time of the December 7, 1941 assault by the Japanese Striking Force, so what place does it have among the monuments dedicated to the losses of Pearl Harbor?
A ship like the USS Arizona, with her memorial constructed directly above, is a symbol of the sorrow and loss suffered on that Sunday morning. With the war won by the United States and its allies, many felt that there should be a symbol of hope that balances the somber feeling experienced at the memorial to the Arizona. Enter the Battleship Missouri, the third vessel of the US Navy to be named after the state of Missouri.
On December 24th, 1944, the USS Missouri was moored at Pearl Harbor after being commissioned over six months prior. For a little over a week she remained there before joining Task Group 58 to support air strikes against Japan. Within days, the Mighty Mo's course was set for Iwo Jima, where she would support the American land invasion.
With the Japanese Navy crippled by the Battle of Midway two years prior, the Missouri faced little resistance at sea, though she did suffer some minimal damage when a Japanese kamikaze flew into her starboard side. Before the final Japanese surrender on September 2nd, 1945, the Missouri also assisted in the bombardments of Hokkaido and Honshu.
Then came the Missouri's moment of glory. Though she had a short run in the Pacific Theater during World War II, on the day of Japan's official surrender, she became one of the most notable vessels of the US Navy. As previously mentioned, the Arizona became a symbol of sorrow, but the Missouri's part in the signing of the Japanese Instrument of Surrender makes her a clear symbol of hope.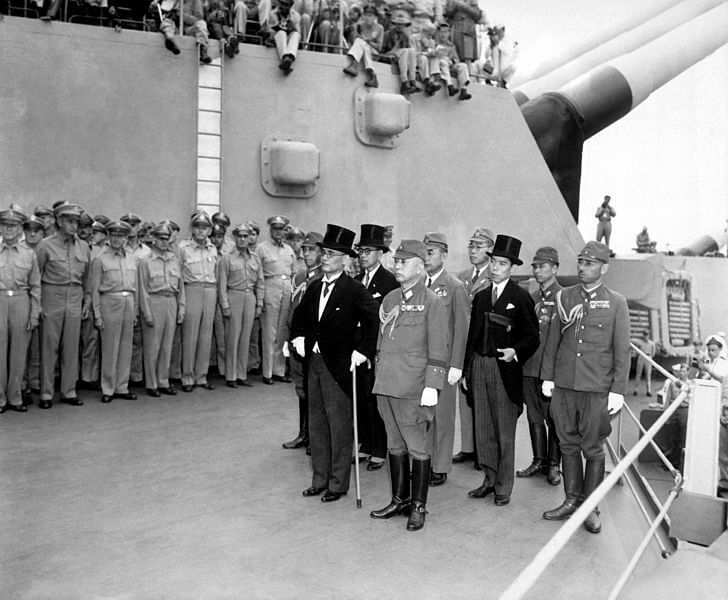 On the day of Japanese foreign affairs minister Mamoru Shigemitsu's signing, the Missouri hosted the elite of the Allied forces, and a tour of the Battleship Missouri lets you observe exactly where these officials stood as Japan conceded its defeat. After you stand over the wreckage of the Arizona and pay respects to the men lost on December 7, 1941, you can tour through the Missouri and, in addition to seeing where the end of World War II took place, actually see what life was like aboard these cramped—albeit monstrous—battleships.
The Mighty Mo may not have been present during the attack on Pearl Harbor, but today she symbolizes a victory that the men lost during the attack, as well as those who survived, would be proud of.