The Lone Vote Against Entering World War II
On December 7th, 1941, the United States suffered one of its darkest days. Angered by trade sanctions enforced by the US, Japan launched a strike against the naval base at Pearl Harbor, located on the island of Oahu. During the tragic events that shattered a quiet Sunday morning, over 2,400 American men and women perished and the US Pacific Fleet suffered the total destruction of two battleships and varying degrees of damage to six more.
The effects of the Pearl Harbor attack were felt immediately as word spread across the Pacific to the United States mainland. Government officials were the first to learn of the attack, and details were soon disseminated to the American public. Fear and panic gripped the country, especially coastal regions in Oregon, Washington, and California.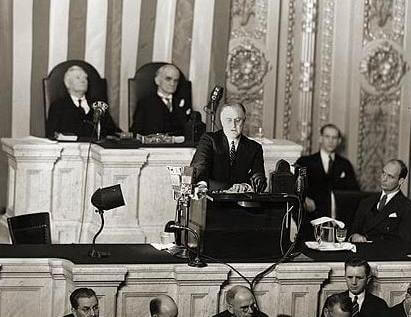 The feeling of a need to avenge the attack struck many Americans. On December 8th, President Franklin D. Roosevelt addressed Congress, his speech broadcast across the nation. Calling for a vote from congress to declare war with the Japanese, Roosevelt proclaimed that December 7th, 1941 would be a date that would live in infamy.
Within hours of Roosevelt's address, Congress came back with a near-unanimous vote, with only one member voting against going to war. When Montana's Representative Jeannette Rankin, the first woman to hold national office in America, cast her vote against taking the fight to Japan, she took a brave stance to stick to her beliefs and what she thought to be true, something she had also done during World War I.
Rather than voice her suspicions about conspiracies and US government involvement in the Pearl Harbor attack, when it came time to vote, Rankin stood up and simply declared that, "As a woman, I can't go to war and I refuse to send anyone else." It seemed to be a safer avenue to take, but it wasn't without repercussions. The press quickly caught wind of what many saw as a declaration of support for America's enemies.
Immediately following the vote, Representative Rankin received death threats, and required a police escort to return home. The press dragged her name through the mud, vilifying her for voting in a way that made her seem less patriotic, especially only 24 hours after the attack.
Regardless of what people said and wrote about her, Jeannette Rankin refused to stray from her initial vote. Doing so probably cost her her career. Before the next election, she decided not to run, knowing she would most likely be easily defeated. Right up to her death at 92 years old, she remained an advocate for pacifism, speaking out against the Vietnam conflict near the end of her long life.