Julio DeCastro: Hero of the USS Oklahoma
Over 2400 Americans lost their lives when the Japanese launched their surprise attack on Pearl Harbor. But amid the tragedy, there were also tales of heroism, of men who swooped in to the rescue, providing aid for those trapped in the most deadly of circumstances.
One of these unsung heroes was Julio DeCastro, a civilian shipyard worker who put himself in an incredibly dangerous situation to try and save the lives of the men trapped aboard the capsized USS Oklahoma (BB-37). The rescue mission DeCastro and the yard workers he gathered embarked on seemed like an impossible one; but even in the devastation of December 7th, 1941, there was a small glimmer of hope.
The Rescue Mission
While bombs and torpedoes were being dropped on the vessels along Battleship Row, the men at Pearl Harbor turned trying to fend off the Japanese attackers and keep damage to a minimum. Unprepared for the attack, the counteroffensive was weak, and when it was evident that some of the battleships weren't going to survive the attack, attention turned to rescuing the men trapped aboard the sinking vessels.
The Oklahoma was among those that took the brunt of Japan's attack, and by the time the bombs stopped falling she was already almost completely capsized. Still trapped inside were hundreds of sailors, banging on the hull and calling out for help.
Back on land, in a nearby shipyard, civilian worker Julio DeCastro instinctively sprang into action. With the capsized vessel in sight, the Honolulu native rallied his men to swim to the capsized vessel and attempt to rescue the trapped men. As he got closer to the ship, DeCastro could hear the tapping of survivors desperately trying to get anyone's attention. DeCastro and his team pinpointed the tapping and, with air pumped from the USS Tennessee, went to work cutting holes in the ship to rescue those they could.
Within 24 hours, DeCastro and his team succeeded in saving the lives of 32 servicemen from the USS Oklahoma.
Fate of the USS Oklahoma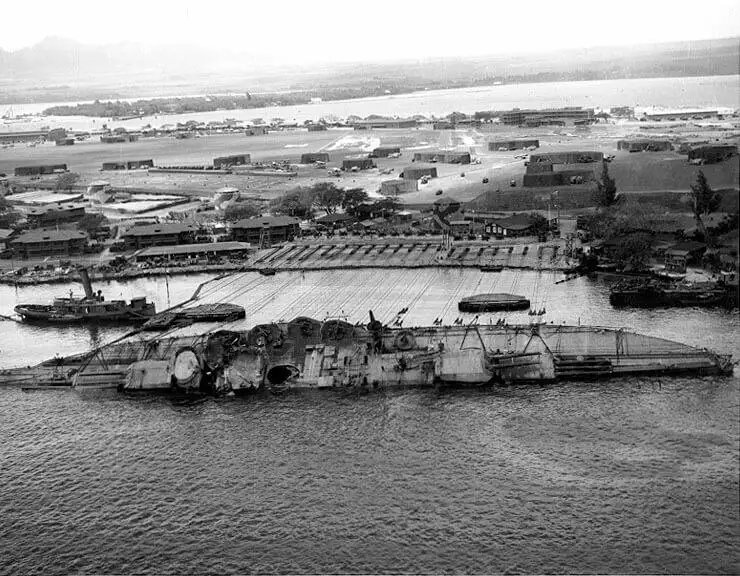 While most of the Oklahoma's crew survived their ship's destruction, 429 perished, and wound up being buried in a series of mass graves in Honolulu. When the Oklahoma was eventually righted, it was determined that she was too damaged for repair, and the vessel was later sold for scrap.
While in transit to the Mainland, she slipped from her towing lines and sank to the bottom of the Pacific Ocean.
Today, stories of the USS Oklahoma and her brave crew—along with the rescue efforts of Julio DeCastro and his men—can be relived at the World War II Valor in the Pacific National Monument at Pearl Harbor.