Howard Linn, USS Nevada Survivor
On December 7th, 1941, the Japanese assaulted Pearl Harbor, killing over 2,400 American sailors, Marines, and civilians. On March 19th, 2017, Howard Linn, a former sailor aboard the USS Nevada joined his fellow former shipmates wherever it is that heroes of war go after they die.
Howard Linn was 95 years old when he passed away from complications of the flu and pneumonia. Over 75 years earlier, Linn lived through one of the most trying times the United States had ever seen and, despite being only 20 years old at the time, he survived and continued his life as a devoted father, husband, and top engineer.
Long before Linn took up the position as an engineer with Northwestern Bell in Omaha, NE, he was a young man looking for direction. Living with his father, who was struggling to find work during the Great Depression, Linn decided, shortly before graduating high school, that life in the United States Navy appealed to him. Linn joined in 1939 along with his father, a World War I veteran, and both found themselves stationed in the Pacific.
The Attack on Pearl Harbor
By the age of 20, Howard Linn had been promoted to Navy Petty Officer, serving aboard the USS Nevada. Several hundred feet away was the mighty USS Arizona, a battleship that would soon receive the brunt of Japan's attack.
At around 0800, the attack commenced. An explosion from the Arizona hit Linn hard, blowing out his eardrums from the sheer force and volume. With little time to respond, the Nevada started to receive attention from Japan's bombers and fighters. Before the vessel – with Linn aboard – could escape the harbor, she caught fire. The intent was to use the Nevada to block off the channel, but the ship's captain was forced to beach her near the mouth.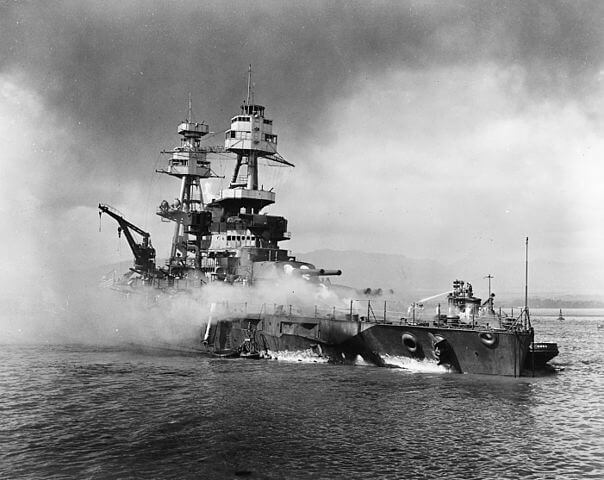 Sixty men perished aboard the Nevada, and another 109 were wounded. After receiving treatment for his wounds, Linn returned to service in the harbor, assisting in the clean-up. He helped pull bodies from the water and, despite the trauma such an event would cause and the injuries he sustained, he continued his naval service until the end of World War II.
After the War
With the horrors of the Second World War behind him, Linn returned home to Nebraska, where he spent 40 years working as an engineer for Northwestern Bell telephone company. Along with his duties as a husband and father of three, Linn found the time to volunteer for the American Red Cross and United Way, and would attend memorial services at Pearl Harbor.
Healthy well into his 90s, the Navy veteran retold his story and that of the attack to anyone who would listen. Though he's passed on, he is survived by 27 children, grandchildren, great-grandchildren, and great-great-grandchildren, who will be able to continue passing down his story and the terrible tale of the attack on Pearl Harbor