Hawaii After Pearl Harbor
Beginning just before 0800 on December 7th, 1941, the world changed. Families lost loved ones, people across the United States were stunned, and tensions in the Pacific exploded. While the world soon felt the effects of the attack on Pearl Harbor, the most directly affected region was undoubtedly Hawaii.
Once it was understood that a foreign enemy had flown to the islands with the intent of destroying ships at Pearl Harbor with no concern for the men and women stationed there, the islands—especially Oahu— were immersed in terror.
During the attack, residential and commercial streets were struck with bombs and chipped away at by machine gun fire. Lunalilo Elementary School, a completely innocuous building with no ties to Pearl Harbor or the US Navy, was damaged by enemy fire. People were forced to flee their homes and businesses in fear of the structures being hit and collapsing. On the ground, there was no indication of where or why the Japanese fleet was bombing the island. All anyone knew is that it was happening.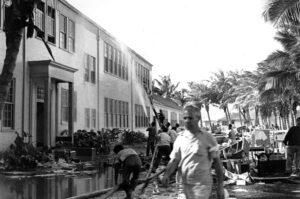 Schools were far from the only institutions affected by the attack. The islands as a whole wouldn't be the same as the war came to their own waters. A feeling of safety wasn't guaranteed any more; a drive along the coast was met with long stretches of barbed wire and defensive measures to halt an invasion.
Knowing that the attack came from Japan, suspicion of spies in the islands was heavy and eyes started to fall on all residents of Japanese descent. Even those who had called Hawaii their home for generations and were friends and neighbors with other residents came to be seen as potential enemies of the state simply by national heritage. Japanese-Americans were rounded up and sent to internment camps, ostensibly to further protect the islands—and the nation—from another unexpected attack.
Still, it was impossible to feel any sense of security.
Hawaii After the War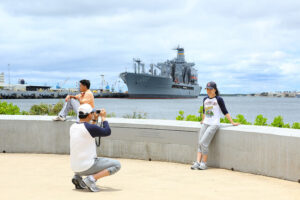 Though Hawaii faced many hardships after Pearl Harbor and throughout World War II, life after the war's end was a somewhat different. Being known as the site of the Pearl Harbor attack brought attention to the island chain, specifically Oahu, and by 1946, tourism had started to become a vital part of the local economy.
Over the years, Pearl Harbor has become host to the national monument it's known for being today, drawing in countless visitors annually and becoming one of Hawaii's most popular destinations.
Once a place fearing the worst, Oahu now welcomes all to experience the history that started with the surprise Japanese attack over 75 years ago.