On Eternal Patrol: The Lost Submarines of World War II
During World War II, after the United States was dragged into the conflict by the events at Pearl Harbor on December 7th, 1941, submarine warfare became a staple of war. The hidden vessels proved to be formidable foes even against the most sophisticated of navies as they often enjoyed an element of surprise. Though the US Navy was not short on powerful battleships, aircraft carriers, and destroyers, reports estimate that upwards of 55% of Japan's merchant marine losses were due to American submarines. There was a cost, though. The United States lost 52 submarines and over 3500 men during World War II. These are the ships and men said to be on eternal patrol.
The Pearl Harbor Avenger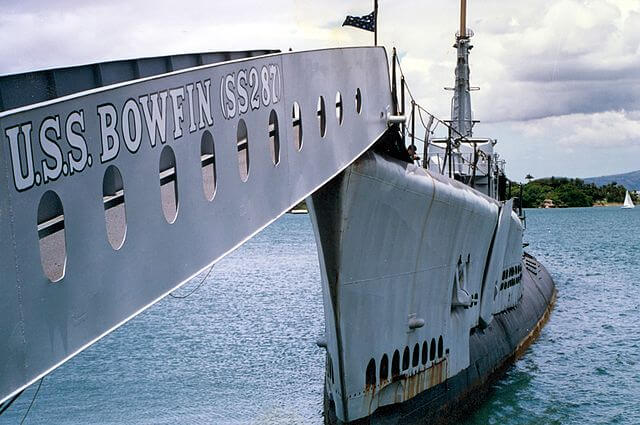 One of the Navy's most iconic World War II-era submarines was the USS Bowfin. The Bowfin became known as the "Pearl Harbor Avenger" after being launched on the one-year anniversary of the Japanese attack. After her service, the Bowfin returned to Pearl Harbor and has since been the centerpiece of the USS Bowfin Submarine Museum and Park, but there's another dedication to the submarines of World War II beyond the Bowfin exhibit that not many know about.
On Eternal Patrol
As with any class of vessel that served in the US Navy during World War II, submarines suffered a great number of losses. An estimated 52 submarines in total were lost and, with them, just over 3,500 submariners. The losses were terrible, but what's worse is that the remains of those lost when a submarine is destroyed are typically never recovered.
Sailors who are killed aboard a submarine are said to be On Eternal Patrol, and the USS Bowfin Museum and Park includes a waterfront memorial dedicated to the World War II submariners who are on eternal patrol.
The memorial is a unique dedication at Pearl Harbor and can be seen from the Pearl Harbor Visitor Center. The circular arrangement lets visitors go down the line of each granite sculpture, which are dedicated to the individual submarines lost during the war. Each small monument, designed like a tombstone, represents the missing submarines and the crew who were lost with them. Inscribed on each plaque is a brief overview of the submarine's service history, an image of the submarine, and the listing of crew and officers.
The USS Bowfin
More information about World War II-era subs can be found in the other exhibits that make up the USS Bowfin Submarine Museum and Park. Learn how submarines engaged enemies, what armament was used, and what life was like aboard a World War II submarine in one of Pearl Harbor's most engaging museums.