William Manley Thompson: USS Oklahoma Hero Identified
The December 7th, 1941 attack on Pearl Harbor left many families desperately hoping and praying for the safety of their loved ones. Fathers, brothers, sons, uncles – they were all thrown into the midst of one of the worst attacks on American soil, a tragic event that resulted in the loss of 2,403 American lives. While most of the fallen were sent home for burial, some never received the dignity of being properly identified and returned to their families.
When the USS Oklahoma was attacked, she capsized with 429 of her men unable to escape. When they were finally reached, many of the bodies found aboard were so badly disfigured that identification was impossible.
At the time, all that could be done was to bury them in mass graves with markers indicating "Unknown." Within one of these graves were the remains of a 21-year-old junior officer named William Manley Thompson. Thompson had joined the Navy Reserve after attending the University of North Carolina at Chapel Hill, and was assigned to the USS Oklahoma less than a month before the attack on Pearl Harbor. Though he didn't receive a proper burial at the time, that was finally rectified in the summer of 2017.
Identifying William Manley Thompson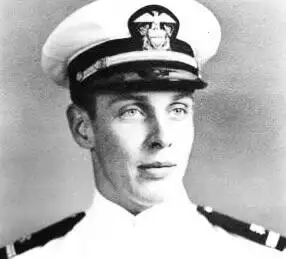 The further we get from December 7th, 1941, the more advanced our technology becomes, and it's because of some of these innovations that the Department of Defense and the Defense POW/MIA accounting agency initiated a program to exhume the unidentified sailors of the Oklahoma to try and match their DNA against the DNA of family members whose loved ones were never identified.
Two years after the initiation of these efforts, Thompson's remains were exhumed and his DNA was found to match that of Nancy Rube, Thompson's niece and oldest living relative. In 2012, Rube and her brother were approached to take a DNA test and after patiently waiting—assuming nothing would ever come of it—they received unexpected news in April of 2017.
Once positive of the identity of the remains, Thompson's status was finally changed from Missing in Action to Killed in Action.
For his burial, Thompson's remains were transported from Oahu with a military escort to Petersburg, VA. In September of 2017, William Manley Thompson finally received a full military funeral and was interred in the family plot.